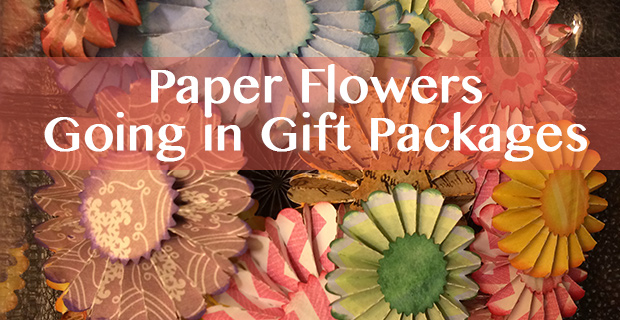 Gifts for Creative Friends!
Paper Flowers a' plenty, Free Journals for Drawing, Five Golden Rings, and a Partridge in a Pear Tree… La, da, de, de, da…  Just like the list of true love gifts of Christmas – I'm gathering little goodies from my studio to tuck into give-away packets for some very special members of our LineWeaving community forums.  A few days back I posted a creative challenge for our members and there's still time for you to join in the fun too if you are interested.  Members are drawing repeat pattern art to go along with the 12-Days of Christmas song elements and posting them in the gallery to inspire each other.
Everyone who gets all 12 items completed by December 31st gets a free packet of crafty goodies from my art studio.  The paper flowers shown in the photo above is a teaser of what's inside the packages.  Want to come join the festivities?  Simply pop into our community forums and visit the "members challenge" discussion board to get the details.  And be sure to visit the gallery to see all the beautiful art that's already been submitted!
Here's a few of the drawings I submitted for the 12-Days of Christmas Challenge.  All twelve are in the gallery inside our forums:
This slideshow requires JavaScript.
My Health is Mostly Good
It been a forever long time since I last updated this site, but the good news is that's because I've been so very busy working/playing in my studio.  I did several shows this fall and throughout the winter holidays that kept my hands busy.  And for the most part, my body behaved for me and allowed me to have fun without much pain.  😀  I'm currently behind on my Botox shots because of an insurance referral delay at the doctors office and that has caused me to have more migraine issues during the last two weeks.  Other than that though, I've been mostly well.
Texas is Hot
What else is new?  Well lets see… I visited our youngest daughter in Texas this summer.  While I was there her air conditioning went out.  Wowsa – was it ever hot!  But we didn't let that stop us from having a grand time together.  I stopped in to visit with mom at her new home in Texas also.  Helped her unpack more boxes and scooted around town with other relative while I was there too.  I really need to make plans to go sometime other than August!  I am not a fan of the humid days and nights down that way.  Inspire of the humidity and skeeter bites, I sure enjoyed my trip and getting to spend time with family!
Retirement is Fun!
I hope to get back into the swing of writing on my blog more often again in the new year.  I'm sure there will be plenty to share.  I just need to remember to stop and jot down a note from time to time.  Retirement is keeping me away from the computer more than I thought it would.  I'm always busy!  After hubby retires we plan to relocate to the high desert region of either Nevada or Arizona.  So I'm getting a head start on purging out closets, furnishings, art supplies, and tons of other things.  I'm just doing a wee bit of this prep work each week, and the rest of my time I get to spend creating in the studio – just about everyday now.     I've been doing more color pencil paintings than ever before.  Retirement has been good to me.  I'm loving my new creative lifestyle!
Peaceful Holiday Season
Ours will be a quiet Christmas celebration this year.  No kids coming or going and we are planning to stay tucked into our little home whilst watching the snow falling outside our windows.  I do believe Santa plans to fill my wish for a Icarus Drawing Board this year, as a box just about that size showed up under our tree this weekend.  😉  If that's so, I'll be sharing with you my experience with the board and maybe I'll post some pictures of any art I make on it too.  Well, that is if I'm not too embarrassed by my results.  LOL  Maybe a bit of practice will be in order before I post anything out to the web.
I truly hope you all are enjoying your holiday season and celebrating in your own special way!  I look forward to chit chatting with you in 2015.
Be Safe and Happy Everyone!
~Cindy