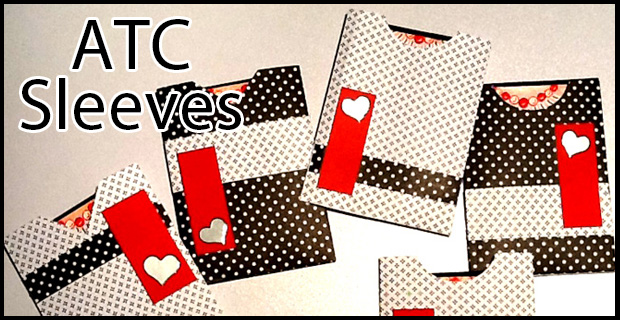 In my last posting I mentioned these little paper sleeves or envelopes (without a flap) that I sometimes make to present my Artist Trading Cards in. Here's a super quick how-to for making them:
Steps to Make ATC sleeves:
Cut a piece of decorative paper to size: 6″ x 4″
With your paper in a landscape position, you'll make two score lines.
For Center Seam, score from the top to the bottom at 1-1/2″ and at 4-1/4″
Turn your paper in portrait direction and score at 1/2″ to make what will be your  bottom flap.
Cut off the two outside corner pieces starting where the score lines intersect.
Fold your paper on each of the score lines so all the flaps lay inward.
Fold the bottom flap up and using double sided tape or strong paper glue – affix the left flap of the sleeve to the bottom flap.
Then affix the right flap of the sleeve to the bottom flap and to the opposite side flap where they meet near the center.
Cut half a circle or half a diamond shape from the flap opening. This will make it easier to slip your card in/out of the sleeve.
Decorate the outside of your sleeve as desired.
Note: If you want a seamless sleeve make your first two score line flaps at: 1/2″ and at 3-1/4″.  The bottom flap will be scored the same as above at the 1/2″ mark.  All the folds are the same.
That's all there is to it.  Quick, easy, and oh so cute!
Video Tutorial:
Here's a video tutorial showing you the steps to make the ATC sleeves:

Have fun!
~Cindy