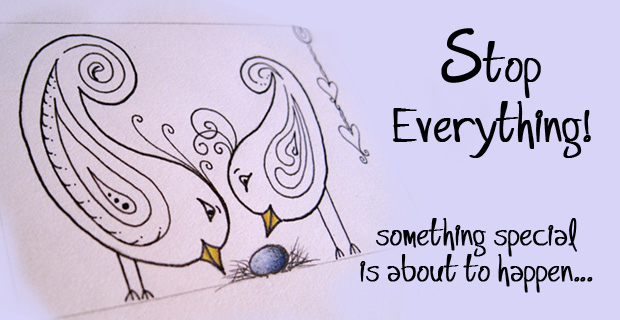 NO!  I'm not pregnant.  LOL  Thought I better get that out of the way right up front in case someone thought otherwise.  Actually all our little birdies have long ago left the nest.  While there are a few moments here and there when I miss having the little ones in house – for the most part hubby and I are enjoying an empty nest.
Nevertheless, my gown-up little ones have been on my mind quite a bit lately.  I'm not sure if it's the upcoming Mother's Day celebration, a trip we are planning back to our hometown to visit family, or the change to a warmer season.  Maybe it's just the Artist Trading Card (ATC) swap we have going on inside the Lineweaving Community that's got me thinking of little birds.
I've got several cards in various stages right now.  None quite finished yet and I have to set everything aside for a bit.  Because I have to get my Mother's Day card completed and mailed off.  Before I stopped the presses on these ATC's, and cleared the table for my next project I took a few clicks with my camera to show where I am in the creative process.  Some pieces are already patterned out, colored, and cut.  Just waiting to be mounted on cardstock "frames."
I did this eclectic series with checked back grounds.  Not all of them will end up being ATC's.  I think the funky looking little owls in the bottom right corner will end up going on the front of a greeting card to a friend.
I've also worked up a small series of swirly looking bird-like critters on top of a sheet of color-pounced paper I've had sitting aside for quite sometime.  I knew that some day I'd find something to do with that page.   This seems to be as good as anything else to use it on.  I like the softness in the color blends contrasted by the black ink.
I still have a mess of them in the sketchpad not even colored nor ready for cutting out.  Good thing there's a couple weeks to go before they are due.  LOL
Whenever I do an ATC swap I usually create a lot more than what's needed for the swap.  Then I do one-on-one swaps with the left overs, or I use them on cards, or I simply RAK them out to someone.  So there's really no telling which of these will get traded in the swap and which will wind up in a different project before everything is said and done.
Mom would love these little chickens on a card, but I'm not far enough along on this to use it for Mothers Day.  It would look cute with a country kitchen background sort of thing tho….. mmmm…. I wonder how this one will turn out in the end…..
Mom's a gardener too who enjoys many bird varieties in her yard all year long.  I think she'd giggle over the knobby knees on this soloist and appreciate the curiosity of this little garden guest peering at the wild flowers.
She's not really into owls so much so I'm not sure the stack of hooty friends would do much for her.  I'll have to finish up this particular card for someone else I suppose.  What colors do you think these sleepyheads should be?
Decisions, decisions.  I think I'll just walk away from the birds for a bit and work on a more feminine card for Mom's special day.  So all these little birds will just have to wait while I take care of the more pressing project at hand.
Are you into birds, or feathers, or anything else from the chirpy world of flight and fancy?  If so – STOP EVERYTHING and  jump on over to http://lineweaving.com/forums and join our Birds of a Feather ATC swap.  It's a simple/small 3-for-3 swap.  The sign-up date and the mail-in date are both 19-May and you're sure to receive a terrific little piece of art from a fellow member of the site!  And if you've never swapped on our site before I'll be sure to send you one of my creations when they are finished too.
Whether it's birds, or mandala's, or random string tangles – when you get a chance to stop for a minute, drop me a note and let me know what's on your sketch pad these days.  I'd love to hear from you!
But for now…. I have to switch gears and get to fixin' up that Mother's Day card so the dog and I can walk it down to the mailbox.  It's such a pretty day outside!  😀  Now where did I put that stamp I wanted to use for the greeting?….
Happy Mother's Day (week) to all my friends out there who have youngin's under their wings now and to those who's little birds have left the nest for new adventures as well!
Cheers!
~Cindy