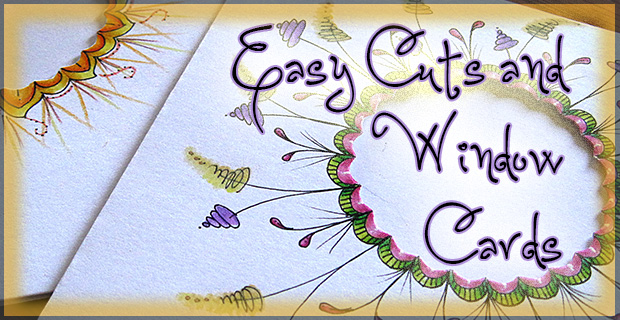 I finally got the video put together for the window cards and a few with fancy edging too. The pre-cut cards in this video were purchased at my local Michaels store. They come 8 in a package (with the envelopes too) and can be found in the dollar bin. Yes, that's right – eight card bases with envelopes for just one dollar. You can't even make them for less money!
But just in case you don't have these available in your area I've also shown you some rather inexpensive toys/tools you can pick up in most any arts and crafts store and accomplish on your own as well.
Here's the YouTube Video:
I hope you've enjoyed this series so far, even though I am running late on it. There's one more to go too. In that posting I'll be sharing with you some cuts and folds that are a tiny bit more advanced from the simple single-fold and 1/4-size cards.
If you want to see more ideas for adding your line-art to greeting cards, be sure to visit the gallery inside our community forums. Folks are starting to post their creative card works. So there's lots of inspiration there to be had!
Remember to stop all the hustle and bustle of the season once in a while and enjoy the holiday with your family and friends!
~Cindy