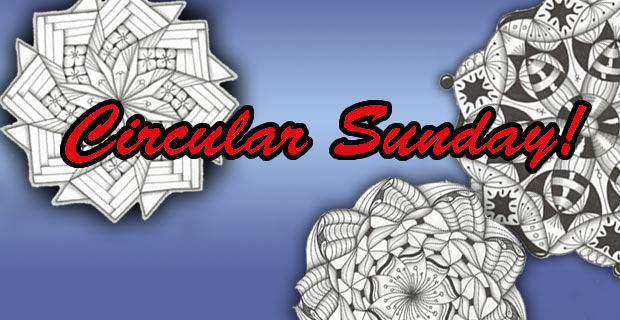 About a month or so ago I did a set of 5 Zendala's based on templates from Geneviève Crabe's "Zendala Magic Flickr group".
Shortly thereafter I found myself in a bit of a groove adding a new mandala/zendala to my other daily scribbles at least once a week. I thought it would be fun to encourage others to add a circular shaped creation to your collections on a regular basis too.
Five Zendala Examples
——————————————–
—————————————————
—————————————-
—————————————-
——————————————–
I'm not so sure that everyone will consider this last one to be a Mandala since it's not circular, but it is – and I enjoyed using Geneviève's template to create it just the same.  Plus I have to show it off because it's got several patterns in it that I'll be sharing in a pattern book I've been compiling.
I find it easiest to start my project with a predetermined shape template and then go from there.  Maybe you do too?  I created a stack of them at one time and have them tucked inside my doodle bag so when I get in the mood I've already got my starter template ready to go without even booting up the computer to print one out.
I decided not to keep them to myself either.  Instead I'm going to add a new circular template to my blog postings on the first Sunday of every month and I'll call them my Circular Sunday posting.  🙂  It's more fun to share.
————————————————-
————————————————-
Free Mandala Starter-Template
To download the template for this month simply click on the graphic below and then save the file to your computer.  It's in PDF format.
—————————————————-
Here's a closer look at the Creation I did using the template above:
Have a great week everyone!
~ Cindy