This is an archived posting from my previous website "Chips Antidotal Wanderings" – a personal blog about family, creative moments, and pain management activities in my life. That blog was active from 2004-2011.
So today we went to the annual Christmas in the Country Craft Fair like we do every year.  This is the first time we went on Sunday rather than on Saturday and I gotta say the crowd was much lower.  Which made it easier to get around and see all the pretties.
We hauled back a few things for ourselves and a couple Christmas gifts too. I love wheat weaving crafts and it's one of those things that I don't do myself.  so it's always fun to pick up a thing or two that other crafty folks have created with wheat.  This piece I purchased for a loved one who has very close living quarters and not much room for decorating.  I think it will fit her design style just right.
The chains on the right are embellishments for purses or back packs.  These trinkets can be used to altered books, maybe even added to a piece of jewelery or hung from a rear-view mirror in the car.  Each one of them have a charm and then a metal expression and I picked ones that would match the persons I'm giving them too.  But I'm saving one for myself as well.  I'm sure I'll use it as a pattern to make more.  I love these little goodies and the best part about them is that proceeds from the sale went to the Cancer Society.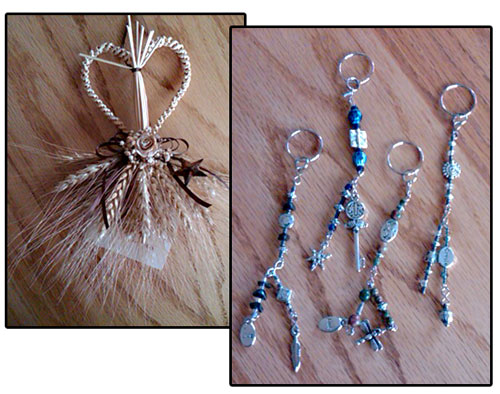 We also brought home a little holiday bear ornament that will adorn the top of a gift package for my friend at work who collects teddy bears.  She has such details in her outfit that you just can't see in this picture.  She even has little ballet shoes with ribbons that wrap up her ankles and matching panties.  LOL
On the right is a canvas painting that hangs on a wall or a door.  Last year I bought one similar to this that has a snowman painted on it.  I collect snowman characters and Greg collects Santas.  So it only seemed right to pick up Santa this year.  He will be a nice addition to our other holiday decor after Thanksgiving comes and goes.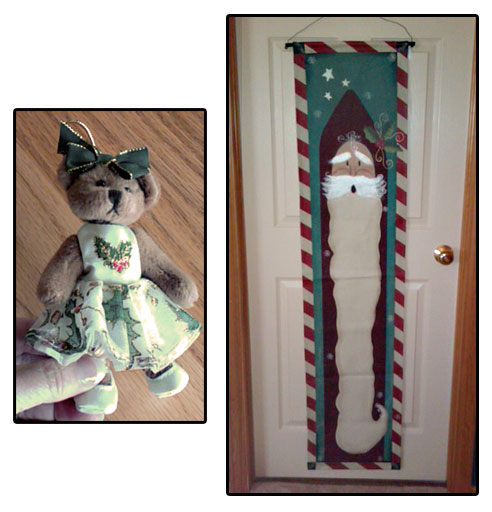 Then we also picked up a new blanket that matches most any room in our home.  You can never have too many throws in a Wyoming home.  There's always a cool breeze and excuses to snuggle under a blanket!
We hemmed and hawed over which horse hair pottery vase to take home.  There were so many pretty ones it was hard to decide.  We have several such pieces of pottery in our home and this one will probably live on our fireplace mantel or the table in our front entry way.  It's a very pretty work of art that again – the picture just doesn't do justice to.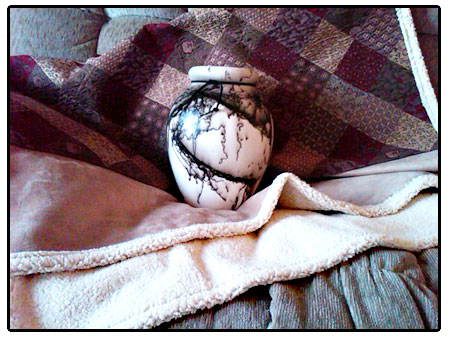 So there you have it – our 2010 Christmas in the Country Craft Fair haul.  Hope everyone out there is having a good time moseying through the holiday season craft fairs in your town.  I'd love to see and hear about your crafty shopping sprees.  Do share will ya?!
~Cindy
.