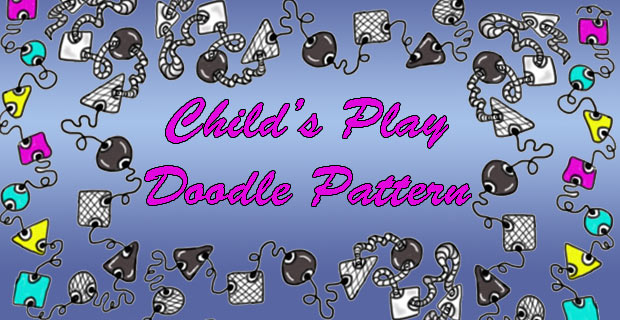 I've been working my tail end off here at the house lately.  We're remodeling just about every room on the upper  floor of our home and most of the projects are do-it-yourself things.  Frankly I'm a bit tired of the construction mess, the achy muscles, and the paint splatters in my hair.  All work and no play makes for a grouchy Cindy too!  I decided this would be a good time to take a break and play.  Play with doodles, tangles, and line weaving patterns.
So I'm taking a few minutes away from the mess in the house to share with you a lovely little doodle I came up with eons ago that I call Child's Play.  It seemed to me this fit the theme of my thoughts today.
The pattern resembles a combination of blocks or chunky beads you might have strung together on shoe laces or thick yarn when you were a child.  I had a pull toy that had these blocky beads on it and if memory serves me right when I came up with this design (I think it was about two years ago now) – I was thinking of that very toy.  It was a duck that flaps his feet and made a weird quaky noise that probably drove my parents crazy.  But I loved it and I love doodling out this whimsical design as well.  I hope you'll enjoy it too.  Maybe while playing around with it you'll revisit a happy childhood memory as well.  😀
Child's Play Video:
——————————————————————
Doodley Design Worksheet:
Right-click your mouse over this picture and save it to your computer if you like collecting pattern worksheets.
——————————————————————-
Have a wonderfully doodley time playing with this pattern and I'll see you again when I come up for air and take another break from the construction debris.  I'll try not to let it be so long this next go around too!
~ Cindy