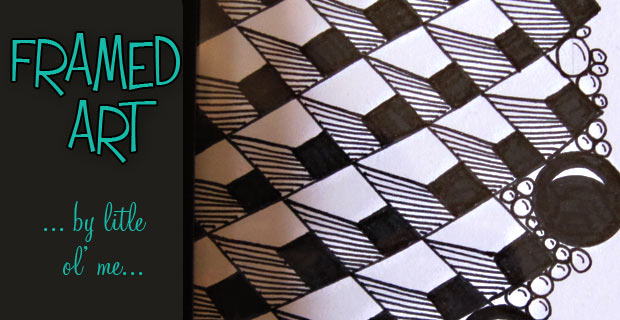 I've had this family collage style frame laying around my house for what seems like forever.  It's been leaned up against a wall collecting dust.
Not too long ago I came across a stack of 4×6 index cards in my stash and they didn't have lines on them.  So I decided to line-weavedoodle on 12 of them to make a collage piece.  I then inserted them into the frames and this is the finished piece.
Not all the circle-like objects match up just right even though they seemed to when they were laid flat on the table.  I think that's because these frames don't actually butt up against each other evenly.  They have a space between them each place where 4 of them meet.
Oh well.  That's the way it goes sometimes.  I still like it anyway.
——————————————-
I thought it came out pretty good and I didn't really have anywhere I could hang it in my home and it not stand out like a sore thumb in the decor.  I took it up to my office at the base and hung it on an empty wall up there.  Seems to fit the eclectic look I've got going on in that room much better.
Have a great doodley time today!
~ Cindy