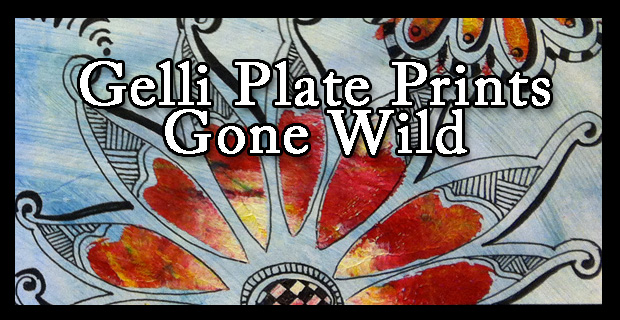 Last year I started playing with Gelli Plate prints.  I had fun experimenting with various color schemes and different paint products.  After going at it for several days and letting all my prints dry, I set them aside for several weeks wondering all the while, what I'd actually do with the prints.
Jewelry from Gelly Prints
I opted to make some jewelry pieces from a few of them.  Trying my hand at wire wrapping, I found my talents weren't all that too great, but I still had fun working with the elements and combining the wire works with my painted papers.  Here are some pendents I created:
Accessories from Gelly Prints too!
Then I decided to do up a mess of barrettes and bracelets too.  And I added a wee bit of pen & ink drawings to most of the pieces, but not all.  I definitely had more fun creating these and apparently folks liked the quality of these better than my pendents too, because I sold quite a few of them in boutiques around town. Here are a few barrettes I created:
I like the way the serendipidous gelli prints create all the color for the pieces and my additions simply compliment the paper. 😀 It was fun to experiment and learn how the gelli plate printing process went as well as coming up with ways to use my prints.
What To Do with Gelli Plate Prints?
Are you a Gelli Print kinda crafter?  If so, what do you do with your prints after you've created them? I've not done a whole lot with my stack of prints and I haven't gone back to do any additional experimenting either.  However, I probably will sometime this summer when I'm wanting to play in the coolness of my studio again.  Maybe I'll combine them with rubber stamping this time?  I'd love to hear your ideas for using the prints!
Drawing Over Gelli Prints
Recently I rummaged through my stack of prints again and this time with journaling in mind. One of my favorite parts of creative journaling are the many textures you can create on the pages.  After I finish a page (and it's finally dry) I always enjoy the textures of the pages.  And invariably when sharing my pages with others, they run their hand over the pages too and comment on the textures.  Weird, I know.  But it's just one of those things us paper freaks like to do I suppose.
Here's a picture of some prints I accomplished and cut in half to make journal pages out of:
Here are the same pages after I doodled them up:
They were added to a swap book project I have going with a very creative friend. And not surprisingly, her comment when she received the book pages was about the fun textures.
So which do you find more delightful about prints from gelli plates – the surprise colors, patterns and shapes? The texture created from the layers of paint? The gelli plate printing process? The fun of creating something from the finished prints? Or is there something else you enjoy about the prints?
Gelly Plate Print Freebie
If you'd like to try your hand at doodling over these same prints – use the small photo links below to grab yourself the jpg copy of the front and backs of my prints.  And remember to maximize the photo size before saving in order to get the largest copy.  😀  They may not have the cool textures, but certainly it will be less messy for you!  LOL  Have fun with it, and if you care to share – I'd love to see a picture of anything you do with it!
Have a wonderfully creative day!
~Cindy