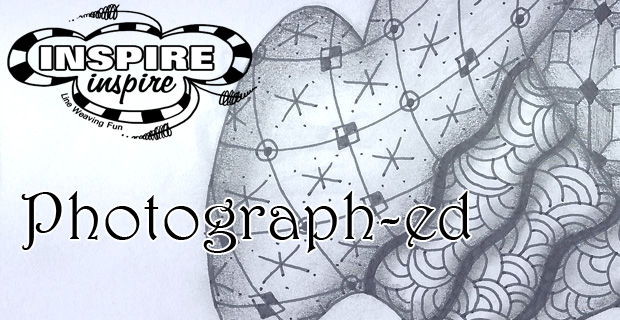 So it's been almost forever since I last posted a prompt for our Inspire, Inspire journal. After getting wrapped up in other events it has taken me a fair amount of creative energy to open my book and find some inspiration. Usually prompts from my everyday activities and thoughts provide me with prompts to coax me forward. However that's not been the case in recent days. So I flipped through some vacation photo albums to see if something would present itself and the strangest one of all did. Isn't that just my luck?! LOL
Seeing this picture of the buffalo standing on the hill at Yellowstone National Park a few years back – is what moved me. So I created a basic bison shape on the page and then created patterns within. Here's the results.
Now it's your turn. I encourage you to take some inspiration from a photograph you have in your stash. Follow a similar process to mine by creating a basic shape of the part(s) of your photo that inspired you. Then have a good time reminiscing as you tangle in some patterns.
And on a Different Note…
Any MAC users in the crowd? I wonder if you'd be willing to make a recommendation or two for me? I have PSCS5e is installed on my PC and it more than meets my needs. I'm not wanting to transfer the license to my MAC at this time because of the hassles involved with working with ADOBE for that process – caused because I refuse to upgrade my product suite. So what I'm looking for now is a decent graphics program for advanced manipulations of scanned art work, photos, and project creations using tablet tools – that I can install on my MAC. I need more than iPhoto and Aperture. By the way – both of these apps are great for organizing and accomplishing basic photo corrections, and Aperture is my preference out of the two. I don't think I need as much as PS6e or even the non-extended PS6  – as there are some advanced functions I don't access in there now except rarely and then it's mostly for experimentation and play. The product that I'm looking to go with is Photoshop Elements because I think it will meet my needs at a lower cost. But I'm holding off until the next PSE release that's expected in Oct/Nov. I hear PSE  feels "bloated" on the MAC and I've not had such an issue on my PC. Anyone have a comparison on that bloated thing? Does it run sluggish on a MAC?
In the mean time, while I'm waiting for the new PSE release – I've picked up Pixalmator hoping it would suffice. I do truly like Pixalmator for most of the things I do repetitively. However, I'm not crazy about the drawing tablet functions in that program. There's not an option to put text on a path (that I can find anyway) and I'm spoiled to many of the plugins available for my PSCS products as well. Such plugins aren't available in Pixalmator. It seems the creators are good about listening to their users though, and I'm hopeful at seeing continual improvements. So my question to any MAC users in the house is: Do you know of another graphics program out there you would recommend me trying on for size? Something that offers similar functionality to PSE that is a MAC based product?
I am finding the learning curve on many of my MAC apps to be a bit challenging as common controls are either overly sensitive to the curser/touch-pad or non-responsive to my usual level of touch/pressure. I press on and continue to get more comfortable with my new MAC friend each day. Still – my mission is to find replacement apps (for the ones I've used on my PC) that are more in tune with my MAC. I have to admit that I do enjoy the ease of use for many of the PC apps that I'm accustomed to and therefore I seem to be resisting the change away from some of my beloved PC apps.  Any suggestions or recommendations with the graphics programs would be helpful because that's one area where I'm finding I'm particularly picky and keep returning to the PC. LOL
If I can find acceptable replacement apps or adequate work-arounds for my usual PC functionals – I hope to make a full transition to MAC before the end of the year. The sooner the better.  So thank you in advance for any recommendations that come forward! I appreciate your willingness to share and help out a MAC noob.
Enjoy!
~ Cindy/PChip
Update:  This buffalo is now available at FAA.  You can find it by searching on the words  zentangle art -or- by going straight to my gallery at Fine Art America!