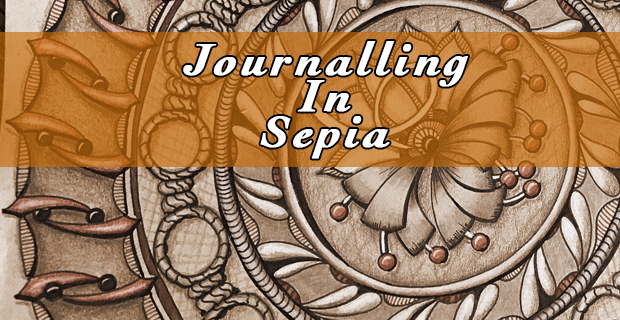 So here's the thing…. Rarely do I use creative writing in journal pages anymore.  Although I am a chatter box in person – I'm simply not much of a wordy person on paper.  If I'm freeform writing, it's usually because I'm feeling very strongly about something and I'm writing more to clear my head or to clarify too many conflicting thoughts that are hanging out in my wee brain.  In those cases, when my emotions are riding high, writing in a journal or on a pad of paper truly helps me.  So the writing has a specific purpose at that moment.
However, writing just for the purpose of writing – well I don't practice that anymore.  I know this is very helpful to a lot of people, and I did too for quite a while.  At some point it started to be more of a time waster for me.  I didn't seem to feel much accomplishment or warm fuzzy feelings from my writings.  The times I did sit down to write – it seemed more like a chore that I "should do" rather than an activity that I looked forward to.
Creative Journaling Works for Me
That's not to say that I won't ever return to writing in journals.  I'll still keep that door open for future enjoyment.  One never knows.  Maybe that will come back around and serve me well some time again down the road.  For now, creative journaling is more my thing.  These days I keep a collage journal, a mixed-media journal, and an unbound any-thing-goes type of journal.
Recently I picked up a new brown page journal to add to the mix.  In this one I'm using primarily dry mediums such as pen, ink, pencil work, etc.  On the front cover of the new journal I jumbled together a mix of patterns.  Several from my own pattern shares that you can find elsewhere on my website.  As I've just started playing with this one I haven't created anything on the spine or the back cover yet.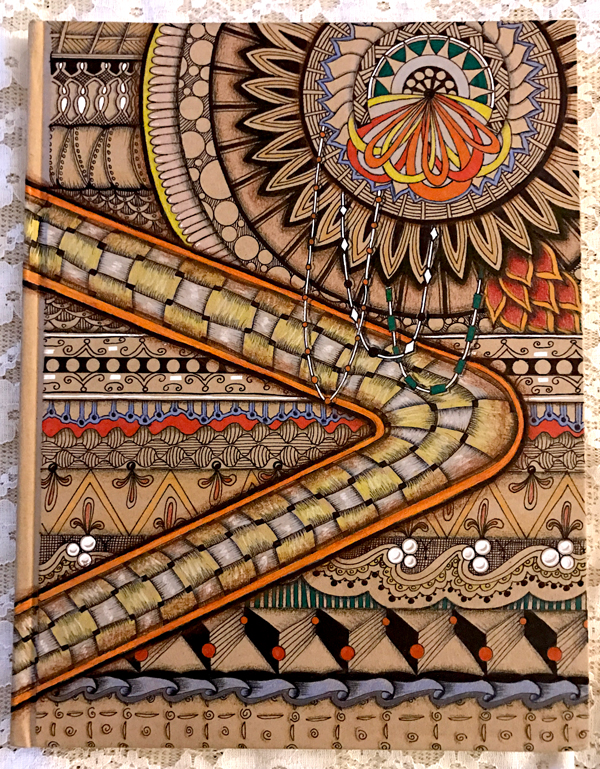 And shown below is one of the first pages I did last week.  I kept to a limited palette – something that's not always easy for me to do.  Even though this picture doesn't show the page as brown, it really is.  I guess the flash brightened it too much?  Anyway – I'm loving the way the white pops on a brown background just the same!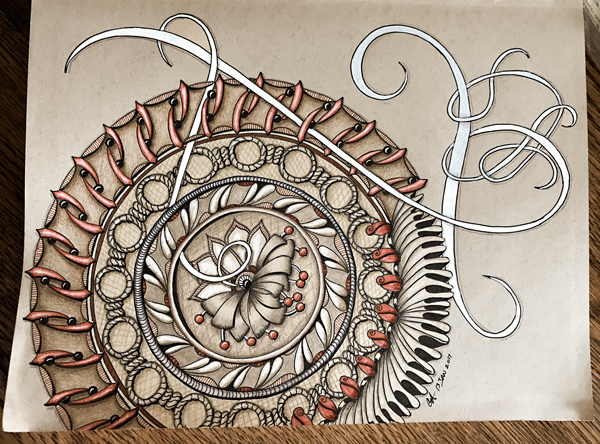 I don't typically create a page from start to finish in one sitting.  I play with my pages for several days.  Sometimes putting one aside and starting a new one in a different journal before returning to the unfinished page.  Then there are times when I walk away from a page for a week or so as I play with other things.  This happens more when I have other projects that I want to give priority to, or when I feel stuck on where to go next with a page.  My journaling can even take a turn and end up being something completely different from what I intended it to be when the creative journey began.  But rarely do I feel compelled to create the entire page in the same day I start it.
What's your Journaling Style?
I'd love to hear from you and see what you have going on in your journals.  Do you create in journals?  Do you find them therapeutic as I do?  What type of journals do you use and how often do you play in yours?  Have you tried one type of journaling only to abandon it for another?  I did that with Bullet Journaling.  Totally did not like the "To-Do List" feeling of my bullet journal.  That lasted less than a month for me.  😉
Do you create your pages all in one day or one hour?  Keep several at a time or find one is more than enough to keep up with?  Is Journaling a chore for you or a delightful time to play?  Do you keep your journals or pass them along to others or trash them like I have on a few occassions?  I had a little burning party after my divorce (many years ago) and several writing journals ended up in the pile.  Was a most excellent event of emotional relief and it renewed my spirit to move forward.  Have you ever participated in a shared journal with a friend or family member?
I did an Inspire, Inspire Journal a few years back, sharing some of my prompts and pages with blog readers.  Is that something you all would like to share in again?  We can start one together if there's interest out there.  Let me know.  I love to hear from you all!
Have a Great Weekend!
~Cindy