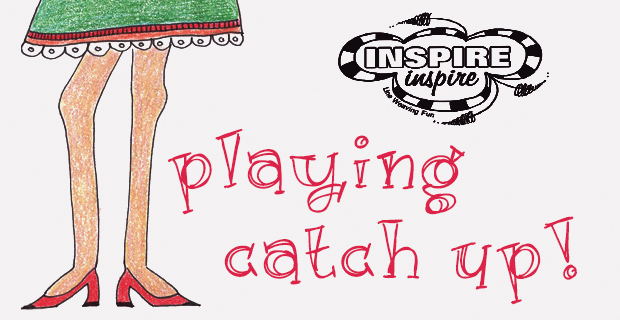 .
I know it's been a very long time since I offered out an Inspire, Inspire Journal prompt.  I hope you've still been playing your your book or maybe even finished it up by now?  I still have quite a few pages in mine as I put it aside for a long time while I was healing last year.  But I picked it back up not too long ago and decided to do up a page.  The prompt I was using was "Playing Catch Up."  That seems to be a running theme for me as I don't manage my time as well as I should, so often I find myself in a bit of a fix.
Extra Me's
When I was younger and raising kids I used to wish there were more of me in order to accomplish all that I needed to get done in any given day.  I figured 5 of me would do the trick.  Now that the kids are all out of the nest and raising wee ones of their own – I find I have more time.  Yet still there doesn't seem to be enough.  So I find I'm wishing I could clone myself to get caught up…. again.  This time I do believe three of me would be plenty.  One to do the household chores.  One to run all the in-town errands that need to be accomplished.  One for crafting all day and night.  😀
Does this playing catch up thing ring a bell for you too?  If it does I encourage you to have some fun using the "Playing Catch Up" prompt to doodle up something during the next few days in one of your creative journals.  Here's the page I did: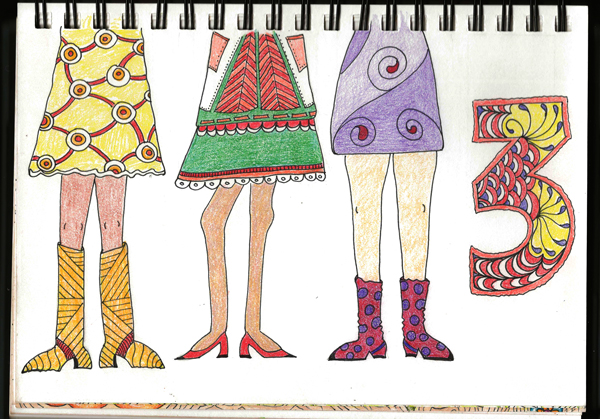 .
When I finished this journal page, I decided those knobby knees would make for a cute poster or greeting card – Maybe with something inside about "friends or crazy fashions?"  I think maybe you have to have a warped mind like I do in order to see the humor in it.  LOL  Anyway –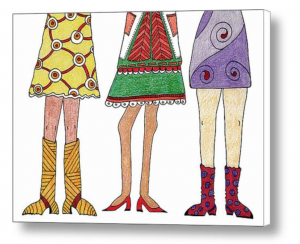 I took this page and removed the number three, cleaned up the drawing a bit in Photoshop, and then turned it into a print design.  A gal out in Alabama seemed to think it would make a funny greeting card too, because she took advantage of the sale I have going on this week in my FAA print shop and she picked up one for herself after searching on the terms: legs art or knees. ROFLOL I suppose there's more than one little lady with a warped sense of humor out there.
The mention of this sale brings me right back around to where this journal prompt started from.  Once again I find myself playing catch up!  So today I'm making the official (and slightly late) sale announcement.
Spring Sale on Cards and Small Prints
One would think that when I put some goodies on sale I would have done the normal thing and announce the sale on my blog ahead of time – or at a minimum on the day the sale started.  But noooo – not me!  I announced it over at Fine Art America where my print shop is, then promptly got busy on other things.  Totally forgetting to post it on my blog. Do you see now why I need extra me's?  Maybe a fourth one would come in handy for managing business sort of things too. 😀  Well there's still time to take advantage of the goodies marked at lower than normal prices. The sale is for all greeting cards and many of the smaller size prints too.  My drawings and hubby's photograph prints are all included. If you're interested you can visit my Fine Art America print shop (Click here to see my  "Kneedy Friends" print options).
So Now it's Your Turn!
Grab that journal and your favorite pen and get to work playing on the prompt, "Playing Catch up".  Don't worry about the chores that you may have on your to-do list!  Maybe one of your clones will get to them in short order.  For now – it's lineweaving time!  Oh yeah – and shopping time too if you want to pick up a few greeting cards and such.
.
Have a great day my knobby knee friends (you know who you are)!
~Cindy
.