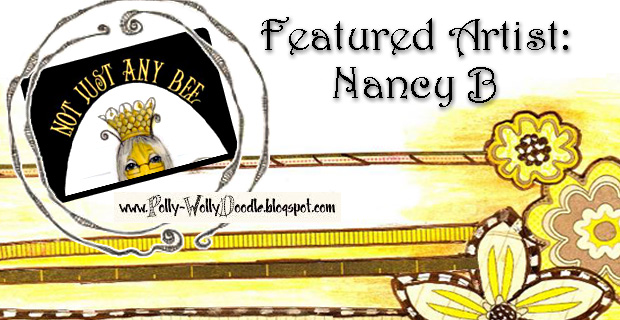 A while back I posted a little ditty about my Tail Capper zendoodles.  And a doodler named Nancy Babb left a response telling me about how she incorporated tail cappers into her doodle frames.  So of course I had to pop over to her blog http://polly-wollydoodle.blogspot.com to see what she was talking about.  And that's where I found all sorts of fun doodling stuff Nancy was playing with.
Her doodle works include lettering, sketching, repeat pattern line work, digital art, and biblical reference line-art as well.  She also makes and sells her own fonts.  And that is actually one of the things she did when inspired by those little tail capper zendoodles.
Framed Tails
First Nancy practiced making doodley frames using tail cappers as a design element in them.  Then she added various doodley things inside her frames.  Sometimes this was text like her "Trust God, He Will Take Care of You" artful piece.
Then she drew up a a few frames with her own tail cappers on them and scanned in the page.  She printed out several of these scanned images and added a single letter from the alphabet into each frame.  Which eventually turned into a font she now sells in her online shop.  It's a rather cute set of letters with open spaces perfect for weaving your own lines through them too.
Then she started adding characters and objects inside her frames and found that she even likes doing her doodles with a pen now (rather than a pencil).  These creations of hers are absolutely adorable!
Lot's of Creativity at Work Play
If you visit her blog using the links above, be sure to take some extra time to mosey around it a bit.  She has some great ideas for incorporating repeat pattern art into her works.  Nancy points out that you are never to old to color and she proves it over and over again as she delights her blog viewers with many colorful pages from her Verse-a-Day art challenges.  This is a creative project based on her faith and she invites everyone to join.
Also on her blog, Nancy offers tips and tutorials for various drawing ideas such as she does on her Faces I Just Never Know blog posting – where she demonstrates the steps she takes to draw faces.
As much as I love her journal pages and lettering I am always pulled nearer to her flower creations than any other.  I suppose it's that gardeny thing I have blooming through my veins.  I included some of her doodley flowers on the graphic at the top of this posting.  Also displayed on the banner the "Not Just Any Bee" is a new theme she has running on her blog and that picture is also hers along with the doodled circle.  There are many more examples of her creative line works on her blog.
Thank You!
A special thanks goes to Nancy for sharing her creative doodles with the world and helping to inspire so many others.  And….. for enabling me with a new Pinterest addiction!  LOL  😀
As NEB has been known to say at the end of her blog postings…..  Leave me a message and let me know you were here.
Thanks for popping in! ~ Cindy