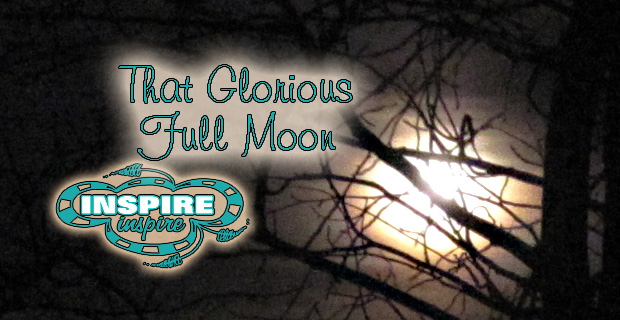 Several nights this week we had a full moon lighting up our night sky.  Each evening as I pulled the curtains closed before climbing into bed it seemed the big fella was whispering, "good night."  And when I awoke the next morning he was still there watching over and it was as if  he had only slid from one side of the sky to the other simply to give room for the sun to make her way in for a new day.   And as she came up on the east that glorious round evening globe, would fade quietly out of site.
"Hidden in the Full Moon"  That is the prompt I plan to use for the next page in my Inspire, Inspire journal.  Maybe you could use the same or a similar prompt for your page too.  Other phrases that might seem to spark a bit of creativity for your page might be, "In the Glow of the Moon" or "As the Moon Lights up the Sky" or "Moon Light."
I encourage you to try one of these moon prompts on for size in your book this week.  Maybe this glowing sphere will light your way to drawing some beautiful lines on your journal pages!
.
.
I hope you'll share some of your journal pages with us in the LineWeaving Community Media Center Gallery and in the Flickr Group for the Inspire Inspire project too!
~ Cindy