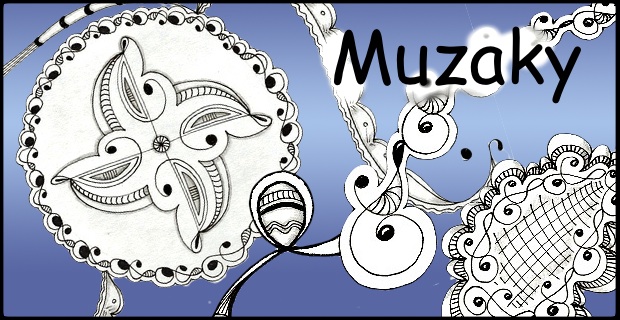 Well July was a month that was just crazy with unexpected events and challenges.  I'm looking for August to be much smoother as I'm merging back into the daily grind of things.  Including stepping up to the plate with a new pattern share.  Back in June  came up with several patterns inspired by the shape of a single earring.  I'll share all three of the patterns with you during August.  Here's the first one and I call it Muzaky.
Here's your free pattern worksheet.  Just right click your cursor over the picture and then save the file to your computer. 🙂
How about a quick video to show you how easy it is to draw? I'm now working with some new video toys/tools.  So it's slightly different than I've done in the past.  I hope it still works for you though.  Please let me know what you think.
Muzaky Samplers
Here's a few projects I put together to show you some different ways you can fill in spaces of the pattern.  And I especially like working this one with an aura around it.
For this next one I started by placing a small dot in the middle of my page and worked each piece of the pattern out from the center point.
Be sure to check back in again next week.  I'll be sharing another pattern with you!
~ Cindy