This is an archived posting from my previous website "Chips Antidotal Wanderings" – a personal blog about family, creative moments, and pain management activities in my life. That blog was active from 2004-2011.
Stripes!
This past weekend I worked on getting some curtains hung in my art studio.  And not to cover any windows either.  I have some great storage space in my studio however it tends to look cluttery and too 'raw'.  I could either cover these areas with door type closures or with curtains and I opted for the softer look of curtains.  It was less expensive for me to buy sheeting than it was for bulk fabric and doing so would mean less hemming as well.  So that's the route I went.
Here's the before and after for the wall of open shelves that holds most of my supplies for paper projects.  And on the floor level is where I store most of my wood projects and altered arts "on hold" item are stored in boxes on the top and bottom as well.  The finished curtains are two large panels hung across an extra long bar, using shower curtain rings.  I love the colors in the fabric stripes and I have some scrapbook papers that are the exact same design.  LOL  Who'da thunk it?!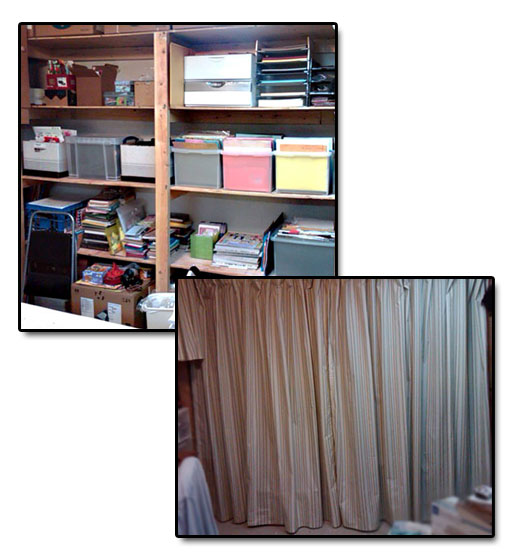 I also have a set of storage units above one of my work desks.  This set has doors on them made of peg board and it's where I used to hang my decorative scissors and other hangable tools.  However I now have them located in another part of my studio closer to the work bench where I do my cutting and stamping activities.  Some things still hang on the inside of the doors.
I left the doors on the shelves and simply covered them with the fabric so they match the others.  Here's the before and after picture of that portion of my room.  You can see how I still use the peg board to hang tools on the inside of the shelving unit also.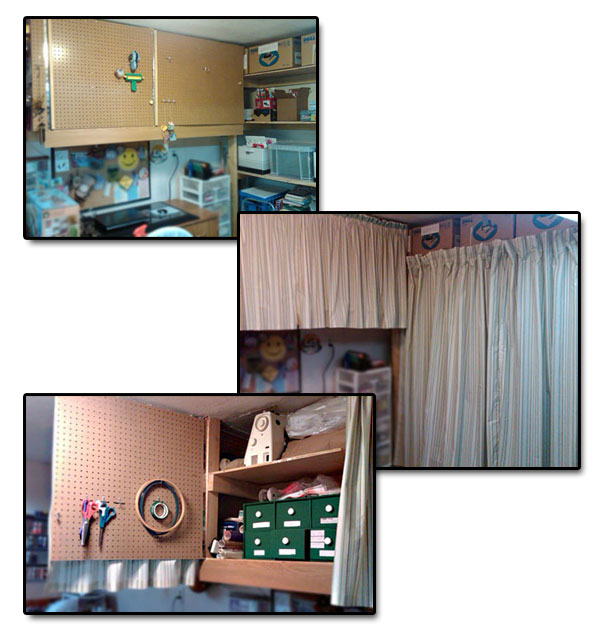 I really like the finished look these curtains offer.  The fabric adds some much needed bright colors to the room and that raw, unfinished look of the shelves is hidden when I don't want to look at it.  Plus all my items are tucked away in neat little packages and bundles.  And if the clutter gets a bit too messy (like it is most every day!)  I can always pull the curtains closed and no one knows….. but me.  😉
So what have you done lately to add a little something new to your crafty work areas?
~Cindy
.