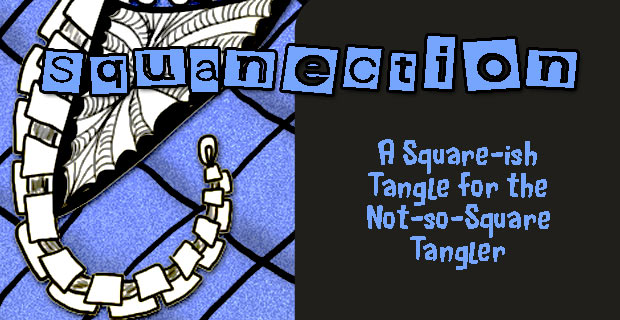 I really meant to get this posted earlier in the week and time just got away from me. I hope you find Squanection a pattern worth waiting for. It was inspired from the square links on my watchband. It's easy to use as a single strand or double it up like you'll see me do in the how-to video. Either way it works fantastic as a "string hugger."
————————————————————
This is a digital project I did to show off the new pattern.  I've called it Disjointed because of the way the squanection pieces seem to be attached, yet not really so.
I did it using my Wacom tablet in PSCS 4. I'm not so crazy about the way it came out, but I do like the color combination I opted to use on this one.  I guess you can't like every one of them. LOL
—————————————————–
Tangle Pattern Video
Catch the How-To video on my YouTube channel along with several more Zentangley videos.  I keep them pretty short, usually just about 2-3 minutes or so.
See how easy that was?!  😀
..
Pattern Worksheet:
———————————————————–
Notice that you can use this as a filler pattern too.  I'd love to see what you do with it.  If you use it on one of your sketchbook pages, give me a shout and share, please.
Have a Fab-Dab-U-Lous-ly Artful Day!
Cindy