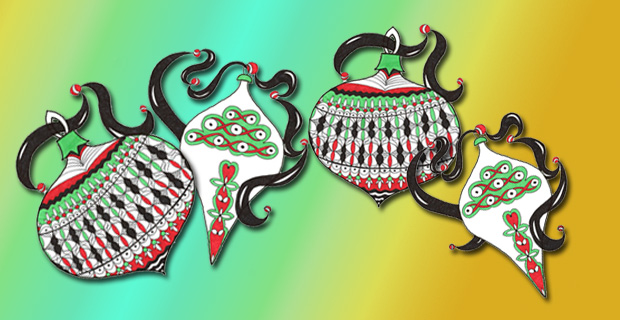 I have two patterns to share with you today- the 7th and 8th ones in this holiday blog series. I hope that you are enjoying the shares thus far. Feel free to leave a comment here and let me know your thoughts. Good, bad, or indifferent, I am open to all recommendations.
From Old Patterns Come New Ones
For this set it will probably be easier for you to see where the inspiration came from. That's because I simply took patterns already found on an old ornament that hangs on our tree – and I tweaked them to be easy-to-draw tangles. This is a pattern-making method that is tried and true and the way many pattern designers start out as well.
For personal creative reasons I rarely use this method when designing a new pattern, but sometimes I just can't help myself. A pattern presents itself to me and just screams to be shared. So here now is Nurkley and Tri-Ledge, two border like designs that can enhance any random string or template project.
Pattern Worksheets
Well here they are – the two worksheets for these patterns.  Each shows some example variations and options for shading, etc.  I hope you are finding the pattern worksheets helpful.  Let me know if you think the format needs changing up a bit.
Now before I bid you a farewell on this day, let me remind you that we have a full set of photo albums included as a part of our Media Center Gallery inside the Line-Weaving community forums. Please pop in and add your repeat pattern works of art to the growing exhibits. We already have over 400 project shares to admire and to inspire us forward into the new year also.
I will share another pattern with you again tomorrow. So mosey on back for more fun!
~Cindy
P.S. For those who can't view the video, here's a look at the inspiration for these two patterns: