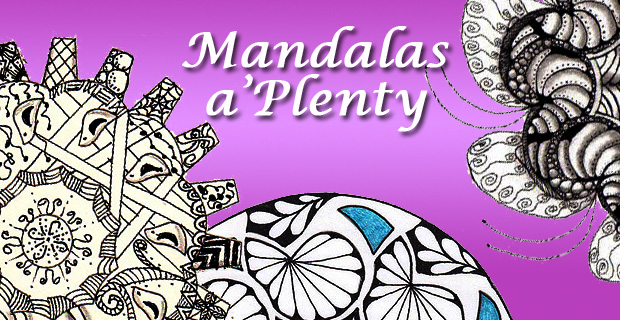 I just can hardly believe that September is already gone and October is upon us.  The days slipped away from me way too fast this month for sure!  And so it is that a new Circular Sunday is just around the corner as well.  But before I bring you our next template I want to show you some of the wonderfully doodley lines others have woven and tangled around the August and September templates.
Artful Creations
Miss Cheryl from Artful Creations has the subtitle of "Creating art where there was none" on her blog and from there she shares with her readers many beautiful projects from the world of paper crafts.  She delves into card making and loves playing with her Cricut machine.  And I love seeing her many stamping projects that inspire me to continue working with my greeting cards too.  Maybe I'll share some of those with you all here.  But first  you have to see the mandala she created from our August template.  On it she combines so many different patterns to delight your senses!  Can you count them all?
Cheryl, I love those little birdies you included.  Thank you for sharing your talents with us all!
Jeannie is at it Again
Remember Jeannie's mandala she created with our first Sunday Circular?  Well here's another one from Jeannie.
Is that a bit of the Metal Plate pattern I see in there?  If not – it sure looks very close to that.  Thank you for sharing your lovely designs with us again this month.  I always enjoy seeing your latest and greatest mandala/zendala!
Tangle Harmony
Genevieve Crabe from Tangle Harmony is an artist, a writer, and she's also been a Certified Zentangle Teacher™ (CZT) since October 2010.  She runs several creative blogs from her Canadian home.  And this last month she also grabbed up my circular template and used a blue Gelly Roll Stardust pen from Sakura to give her Zendala a touch of color.
If you're enjoying my Sunday Circular starter templates, then be sure to visit Genevieve's blog where she shares a set of zendala templates she created too.  I enjoyed using her templates to start a few creations of my own as well.  Feel free to check them out here.  They were a blast to do!
Thank You Everyone
I appreciate the emails and comments that have been coming my way about the Sunday Circulars.  Thanks for sending me links to your works of art as well.  It's always fun seeing your beautiful projects!
New Circular Template Coming This Sunday
Are you ready for another one?  This Sunday is the first one in October, so I've got another new template to challenge your line-weaving muse.  Be sure to come back and visit on Sunday to pick up your copy!  And if you missed out on the first two templates you can still get a hold of them by looking at the blog postings I have marked with the category name….. wait for it….. Circular Sunday.  🙂
Looking forward to seeing what you come up with.  So be sure to revisit to pick up your free copy!
~ Cindy