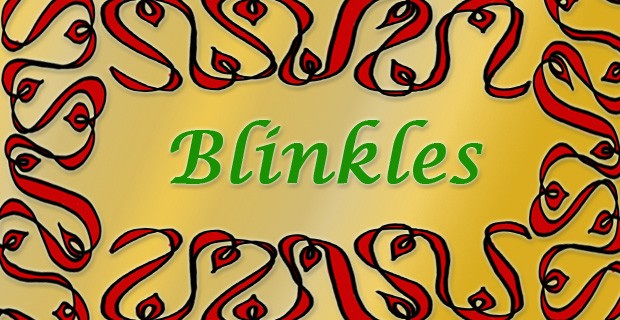 It's Christmas Eve at our house. And as our family traditions would have it, this is the night we go out driving through the neighborhoods in town gazing at homes decorated with lights. And it's these twinkley little beauties that have inspired todays pattern share.
Basic Steps for Blinkles:
Draw a string of garland using a single stroke line with wide open curves. Each going in opposite directions.
Next weave a string of holiday lights through your garland so that inside each loop rests a light bulb. I do this line using a single stoke as well for a smooth continuous look.
Now go back in and add a "glow" line around each bulb. After all, it's this twinkle of the lights and the glow in our hearts that makes the season bright!
Don't you think these simple pen strokes weave together nicely to create a most delightful decoration on our paper? I like how the glide of the pen feels in my hand on this one. It's soothing and relaxing for me. My favorite way to create.
Spike the Holiday Nog
You can easily spice this one up a bit too simply by changing how you direct the garland loops; or the size and shape of your twinkle bulbs and the glow line that surrounds them! So get a little tipsy on your page and experiment with different flavors of Blinkles.
Please share your creations in our media center galleries at the line weaving community too. That way we can get inspired by how you decked the halls of your sketch pad this holiday season.
YouTube Video
Here's a little clip showing how I draw my strands of Blinkles using those single, soothing strokes.

Merry Christmas to you all! Celebrate your life, your many gifts of family and friends, and enjoy your holiday festivities with great abandon!
~ Cindy