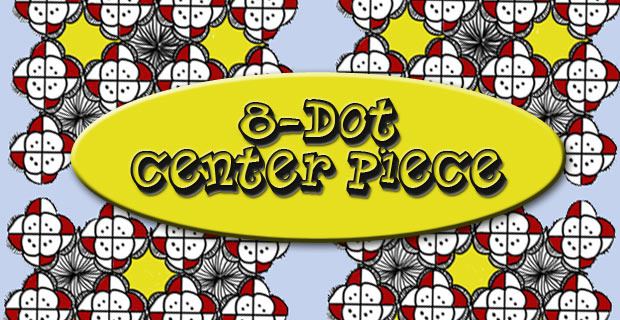 Popping in today to share with you another tangley line-weave design I created a while back.  The reason I call this one "8-Dot Center Piece" will become apparent to you as soon as you watch the video to see how to draw it.  More often than not I use this as a filler pattern.  However it works very nicely as a solo design as well when it's embellished with additional doodle lines.  I've Zenned this design, Zoppic."
——————————————————
Zoppic How-To Video:
——————————————-
Using this Design as a Center Piece
Here's a couple examples of this same design enhanced with extra doodle lines and used in a solo performance.  Once on an ATC and then again on a card front.
———————————————
Tangled Stacked Heart Trio
This is the original project I created using my "Stacked Hearts" template that you see I redid in electronic format for several of the videos where I'm showing how to draw a few of my doodle designs.  The 8-Dot Center Piece design is shown on the heart in the right most edge of the page.  Other designs shown in this project are my Lucky Charms and the Fish Net Stocking tangled doodles.  If you follow my blog you're probably already familiar with these.
————————————————
My Line Weave Design Worksheet
And before I forget – here's the pattern design worksheet and you can get the Design worksheet as a PDF by clicking here .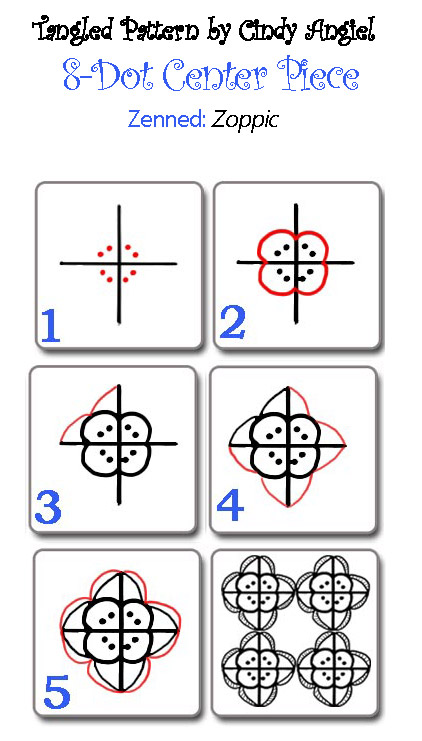 Have a Doodley Fun Day!
~ Cindy