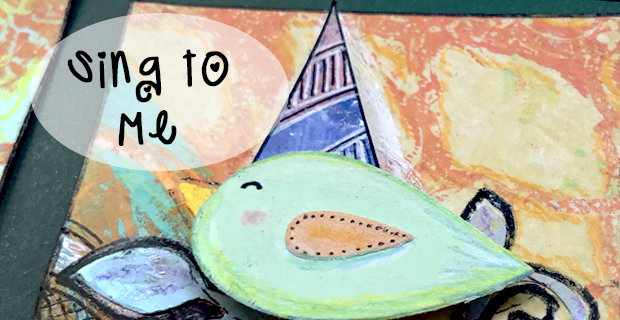 Busy, busy, busy this past week.  I had several health appointments and spent a few days helping a friend move.  But I still managed to get some crafting time in the studio too – Wahoo! I put together a set of mixed media ATCs and I have a couple left over if you are interested in swapping.
Element Stacking Process
First I pulled out a piece of deli paper I previously used on my Gelli Plate – cut it into smaller pieces being mindful of the color and shapes on each piece.  Then I decoupaged the cut pieces onto ATC size cardboard.  Deli paper is non porous and is a little heavier weight than tissue paper – not as heavy as printer papers.  It's thin enough to have a transparency to it.  It crinkles easily – which is part of what I like about it as a base paper on canvas art and ATC's too.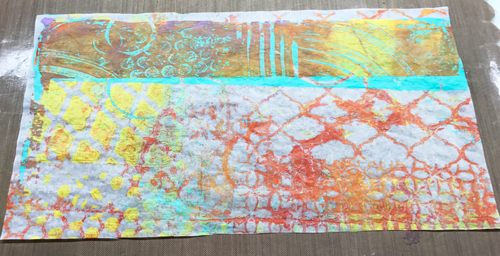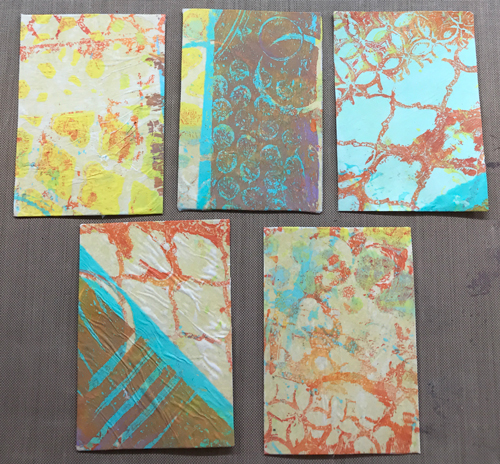 I cut a few bird pieces from papers in my card making scrap pile and some branch like flourishes from different mono print paper scraps.  They are really droplet type shapes rather than bird shapes.  So even if you don't have a cutting file for such things, you could simply draw rain drops and cut them out.  Nothing fancy for this birdie!  Then I added pencil markings to the birds to give them a wee bit of character.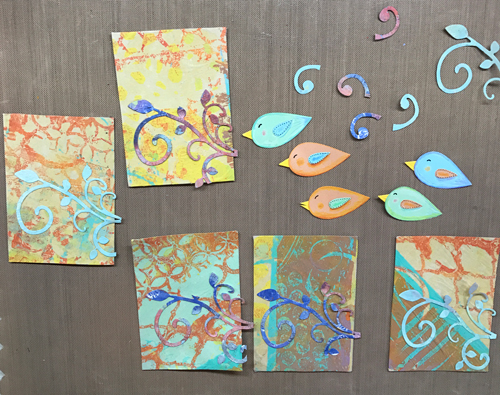 Need a Little Whimsy
These cards didn't have what I was looking for just yet. I added a hat for each bird to wear and this gave them the whimsical look I was going for.  After assembling the pieces using paper glue and pop-dots for dimension, I added my repeat pattern Tri-Linez, on the bottom portion of each card.  Under the branches only.  This gave the cards more weight and visually "grounded" the branches so they weren't floating anymore.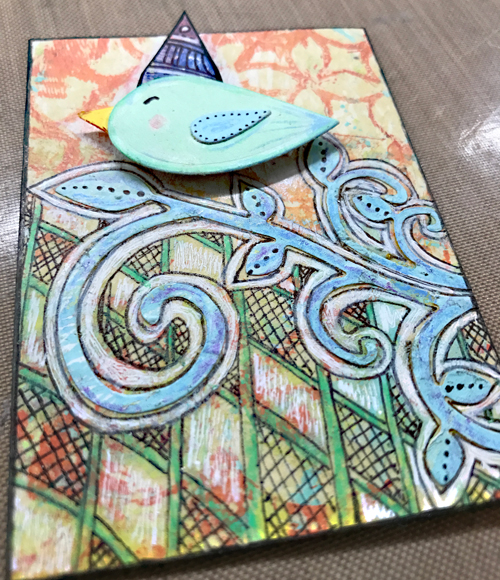 I think it's important to think about the overall composition of a piece even if the art is as small as 2 1/2″ x 3 1/2″ Artist Trading Cards.  So to finish them off I added a flower with an eyelet in the center and a couple of music notes.   The placement of these additional elements help lead the eye from top left to bottom right.  These cards were titled, "She Wears Her Hat Proudly and Sings Loudly."  There are five in the series.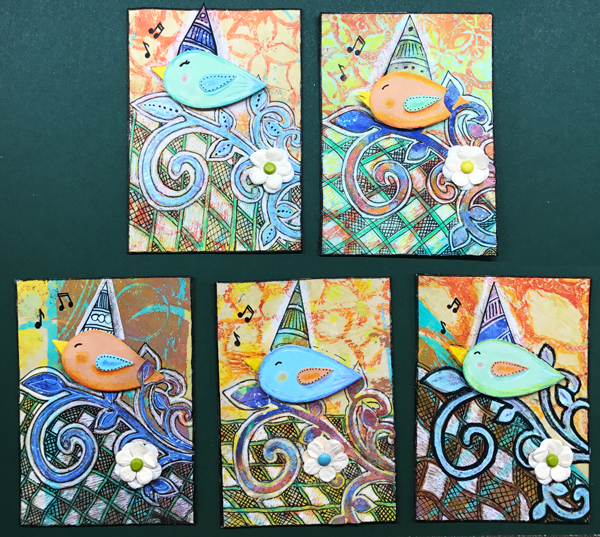 Wanna Do an Art Trade?
I have two cards left over from the original swap.  If you'd like to trade one of your ATCs with me in exchange for one of these, just drop me an email and we'll make arrangements for a creative share.
Go out this week and wear your hats proudly.  Remember to sing loudly too!  😀
~Cindy