This is an archived posting from my previous website "Chips Antidotal Wanderings" – a personal blog about family, creative moments, and pain management activities in my life. That blog was active from 2004-2011.
Sydneys Creations
When our Granddaughter came to visit this summer I taught her about ATC's. We made a set together to swap with one another and promised we'd share more with each other as time goes on.  Here's the first ATC Sydney made for me.  She calls this one, "Sleep Heavenly." She used two decorative papers, fabric flower, decorative brad, and foam sticker, stamped image, hand scripting with marker, and a squiggle of embossing too.  She thought the embossing thing was a super fun part of this project.
Today I received a new set of ATC's in the mail. One is called "Birds of a Feather" and the butterfly one she titled, "Live for Beauty." Sydney is an 8-year old artist who lives in Texas. 🙂 As you can see, she is very creative and has a touch of the multi-media artist in her soul. On these ATC's she used several decorative papers, markers for hand scripting, stickers, buttons, brads, and a feather too.
She even finished off the back of the ATC so the brad clasps didn't show! I'm so impressed.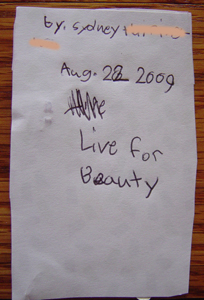 NOTE to SYDNEY: I scratched off your last name in this photo so people wouldn't see it. That's the safe way to show it online. But I didn't scratch it out on the real piece of art – that is now displayed proudly in my ATC book! 😉
Miss Sydney – I sure wish you lived closer so we could spend more time in Grandma's art studio together!  Thank you soooo much for the wonderful works of art!
~ Cindy
.