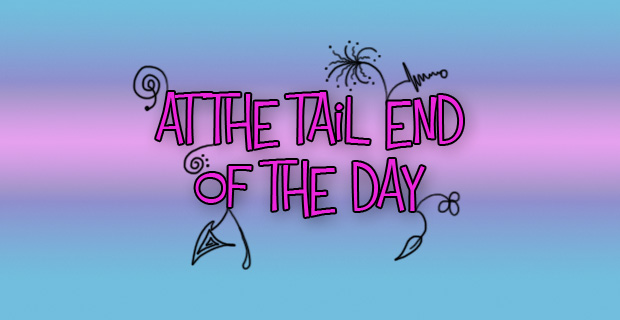 So here I am late again with my blog update.  I try to get a new post on my website about every weekend.  This weekend it all flew by so very quickly that I didn't even have a chance to turn on my laptop.  I did check in via my IPad, but I just didn't have time to do up a video this go around.
For now I'm still running around like a crazy lady with not much extra time on my hands for web doodlies this week.  However I did carve out a few minutes this morning to create a quick design worksheet to share.  These are little things I call Tail Cappers.  I consider the open end of a line or string – a tail, because it just hangs out there like the fuzzy one on the back end of my pup.  And a Tail Capper is simply a decorative element added to the end of a tail to give it a bit of fanciness. Similar to how you would add a finial at the end of a curtain rod, the top of a stair railing, or to a rod-iron fence post to give it a finished look.
Fanciful Things:
Speaking of finials… when you see one you like use it as as your inspiration to create a new pattern or add a new design to your next "tail".  Here's one I found online just a moment ago that I think would make for a splendid pattern weave.  What could you do with this?  It inspires me to add a couple of circles to the end of a tail; wrap it with curvy lines, and add a triangle at the tip.  🙂  OR……
How about I just do up a pattern like that instead?!  YES. YES. That's what I'll do.  I don't have time now to create a full worksheet on this, but here's a peak at what I just sketched in the small pattern book I keep on me all the time.  I'll clean up the pattern and give you all the worksheet later this week as time allows.  I just love it when a serendipitous moment happens like that!
Flickr App for IPhone
And you just gotta love these little IPhones connected to Flickr too.  That's how I was able to take a picture of my "design moment" and zip it to this posting in under a minute.   Here's a link to the app that I use.  Maybe you'll like it too.  It's free by the way. 😉
Zendoodle Design Worksheet
Well I got a bit off track there in an A.D.D. moment.  Anyway – I only have about a minute more before I gotta return to work.  So back to the subject at hand – Tail Cappers.
Below is the design worksheet I created for you this morning.  I hope it gives you ideas for something frilly or silly at the tail end of your day…. or at least on your next line art project!
I'd love to see any Tail Capper type designs you use in your art!  Do share.  Do share.  🙂
Cheers,
Cindy
P.S.  What should I call this new pattern? Got any ideas? <<<<<<<<<