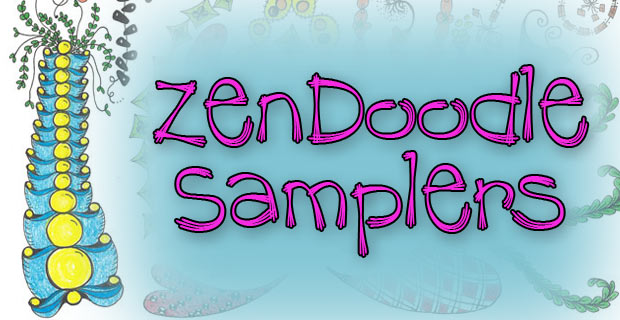 Was in the mood to do a few samplers not too long ago. A sampler is really nothing too different from any other doodle, other than maybe in the way you start your project. Sometimes folks will divide up their page in small sections like in a set of squares. For this first one I'm showing here all I did was draw a squiggly line across the page to use as a starter string and thing I doodled along it using various doodle designs shared by members of the Freehand Doodle Pattern group over at Flickr.
…
It's a fun place to pick up line-weaving doodle designs if you're in the market for some new ones.
If you click on the photo above it will take you to the associated Flickr page where you can learn more about each of the patterns used and who designed them.
———————————————
Here's a slide show of another sampler I did a couple weeks ago.  Enjoy.
———————————————
A picture of the final project:
What did you Doodle this week?