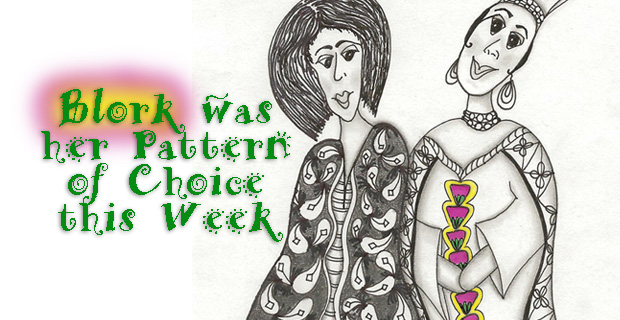 Here's a little pattern that looks like candy-corn – a waxy little nibble of sugar seen in the stores around this time of the year here in the USA. To make this pattern you simply draw a series of rounded triangle shapes. They can be clustered randomly, stacked neatly in a row, lined up nicely in a line or even mirrored with one another.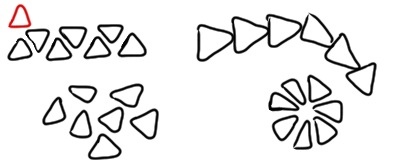 Next add three little petal shapes in one corner of each triangle. Here again you have choices. You can draw your petals in a repeat pattern fashion and keep them facing all in the same direction; stagger them in every-other triangle, or be totally random with it. You will quickly learn that which placement options you choose may be completely different from one project to the next.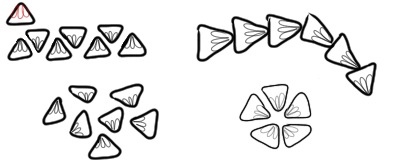 Drawing multiple candy corn shapes and arranging them on your project is what makes this a repeat pattern design.
Here are several example projects to show you some differing looks you can achieve with this simple Blork pattern.
The Two Steps for Blork
Now before you go out and buy yourself a bag of candy corn to munch on – grab the pattern design worksheet and save it to your computer. You might want to refer back to it for the next doodley thing you do while chomping on those little candies. 😉
This free downloadable worksheet shows the two drawing steps needed to accomplish the Blork pattern. Do you believe that? A project sheet for just two steps? Well I figure if you are a pattern collector you might want it in your stash with the others. If you're a teacher you might use it to show students the ease of this small pattern that even the youngest artful soul may be able to sketch.
Have fun with it, and let me know if you add this yummy pattern to a project of yours in the near future. I'd love to see what you do with it!
Oh yeah….. One more thing before I go….. Heads up. I've got two new vids posting out this week. One showing a ghostly Halloween party decoration the kids will like. The other? Well it's another pattern, of course.
I hope you will come on back for the fun!
Weave up something special today!
~ Cindy