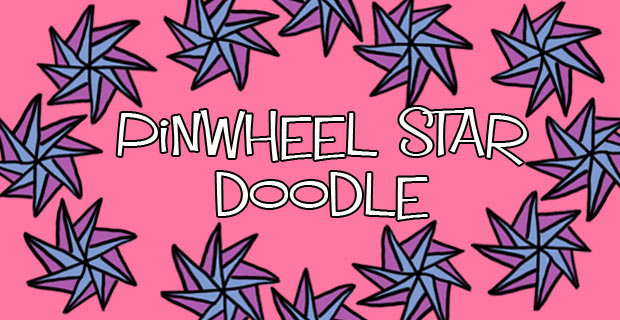 When I first designed this pattern I called it Pinwheel Star.  Then I zenned it, "Pinstwarp" and I love how it can easily be used as a filler, a stand-alone element or a star shape that runs along a string.  It's quick and easy to learn how to draw and has multiple shading options as well.  You just gotta love a pattern that has all that going for it!
———————————–
How-To Video for Pinstwarp Pattern
After watching my 2-minute how-to video you'll be able to add this pattern to your works of art too.  Check it out!
.
———————————–
Side Doorway – a Line Weaving Art Piece
———————————–
Besides Pinstwarp, this project also includes several more of my designs: Gifted, Stick Weave, and Paper Lantern/Plantern I think they flow together nicely in this simple project.
Tangled Pattern Worksheet
Here's a worksheet you might like to download and tuck into your  pattern library too.  Simply right-click on the picture and then select the save option from the pop-up menu.
.
——————————————
Have a Tangley Good Time with this one!
~ Cindy