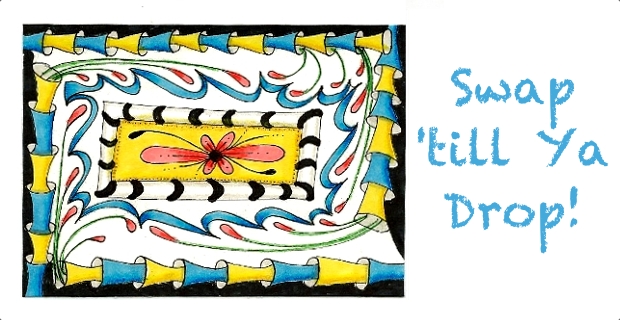 Are you a member of our LineWeaving.com community forums?  If you are then you already know about the fun things we've had going on since last November when we launched the site.  If you aren't a member yet – then I hope you'll join us soon.
Congrats to Our Members
Recently we had a wonderful set of raffle drawings with three winners receiving surprise gift packages.  As is always the case it didn't matter if you were brand new to the world of tangles, doodles, line-weaving, and line-art, or if you consider yourself an expert.  Everyone had a fair chance as winning one of the prizes.  Our members only had to add their art to the gallery to be included in the raffle drawings.  Congratulations goes to: Pixiey (winner of the 1st drawing), to PaperDrama (who won our second prize package, and to Beckielouhoo (winner of drawing number three).
Swaps-a-Plenty
Every month we have several artful swaps going on – giving our members an opportunity to collect creative pieces from others all around the world!  So far this month we have three swaps in the works.  One is an ongoing swap of paper quilts and this go around our color theme is blues and grays.  The quilt pattern we're playing with is called Attic Window.  Each swapper adds their favorite patterns to each piece of their quilt block and then mails them into the hostess.  In return they receive a new set of quilt pieces created by the other swappers in the group.  They put together their paper quilt block as they please, framing it, or maybe mounting it in an 8″ x 8″ scrapbook album like I'm doing.
Here's an example of what this months pattern looks like:
Next go around we'll be doing a "Crazy Quilt" block that includes a heart in the center.  You can get more information about the project inside our forums inside the string: Artful Ideas and Open Discussions.  And visit the Artful Shares / Hosted Swaps discussion string to sign up for the current quilt block swap too!
ATC Swaps X's 2
I'm also hosting two Artist Trading Card swaps in the community this month as well.  Check out the video below to see what's going on and then jump into the forums to add your name to the list of swappers.  We're all having a great time sharing art across the miles.  And I'd love to have you join in the fun too!
Visit our Artful Shares Hosted Swaps area to sign up for either of these ATC swaps too!  They are of course open to all our community members! Looking forward to seeing you on the inside!
~Cindy