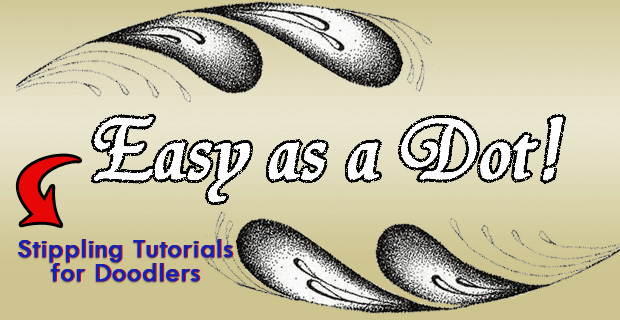 Over in our forums/gallery at LineWeaving.Com Miss HElena has been going a dot-crazy lately with some wonderfully stippled project pages.  Which has prompted this blog posting.  Although it's not a daily thing for me, I've done a fair bit of stippling myself over the years too.  And the methods that I've developed over time are maybe slanted from what you've already learned.  Oh they garner the same results – artful creations created with dots.  However the creative process may be slightly different from what you've been taught in the past.
Stippled Dots
The word stipple can mean different things depending on the context of conversation.  As I am using the term here I am referring to the artistic style of using dots to create, pictures, shapes, and shadows using ink on paper. You can see examples of incorporating stippled affects in two of my recent Inspire, Inspire Art-Journal pages.
In this page I titled "Morning Thoughts" I used my single-pen stippling method to create some textures and shadows within the twisty vines shooting upward and the three small feathers located about the middle of the page; as well as in the metal plate patterns the encircle the face.
On my art-journal page from the Core Values prompt, I used my multi-pen stippling method for adding some shadowed textures to the leaf in my project page.
Here's an example of a stippled project I just finished recently titled, "Tickled Dots":
Three Stippling Method Tutorials
How about you have a go at adding stippling to your doodles, tangles, and other line-weaving projects.  I wrote out the steps I use and added some pictures to help explain the process in a little tutorial.  Clicking on the photo below will get you to the pdf version of this tutorial.  I hope you find it helpful and I also hope to see your stippled works in our gallery at lineweaving.com!
~ Cindy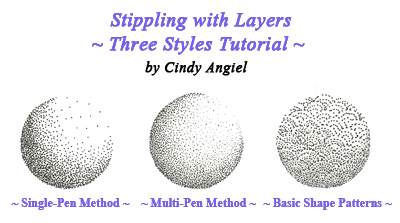 Please share this post link with your creative friends. 🙂