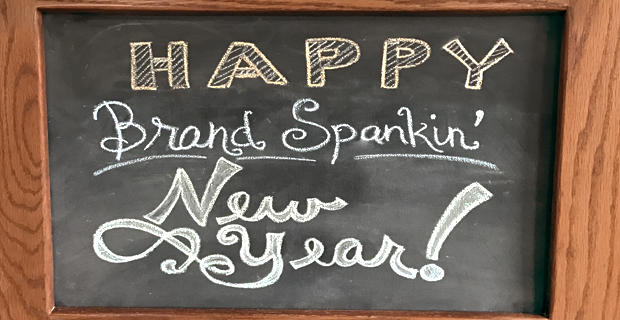 The last time I posted to this blog was in December 2014.  I think it's time I re-engage, don't you?! Besides manhandling a hectic travel and moving schedule (that went sideways several times), I was also dealing with some emotional struggles. So the time away from my blog was very helpful as there was no writing deadlines or expectations to meet.
Thank you all so very much for understanding my need to pull out of site for a while.  Honestly, I did like being off my computer and away from the web – especially in the main areas of Facebook where there is so much crazy chatter and negativity. Ugh!  Who needs that stuff?  But I have truly missed my online friends in some of the groups on FB where the discussions are more fun to participate in.  And I've missed the creative souls at Lineweaving.com too!
ATC Swap Restart
I've decided to jump back online and get involved again. To kick off 2017 the first thing I'm doing is hosting an ATC swap in the Lineweaving forums that has an easy "Anything Goes – Repeat – Anything Goes" theme. Which is actually not a theme at all. It's just a low-stress restart for ATC swapping where pretty much anything you want to do is acceptable for this swap.  If you're interested in joining us, jump on over and let me know you're in for the fun.  Sign-up and mail-in dates are mid January for this one.  And I'll be posting a 3×5 card swap for February too.  So if you're in the mood for Love… or heartsy tartsy type drawing, keep an eye out for that one coming up just around the corner. 😀
Less is More!
While I was away from the blog we did finally get moved into the new house and after multiple delays – I finally have my studio put into place as well. It is now in the main part of our home, right inside the front door – where people happen to see the area as soon as they walk in.   This creates a situation that necessitates cleaning up after myself more often – a chore I did not have to do before. Although that seems like a bad thing, I guess it isn't.  At least that's what I keep telling my messy self as I'm having to be a little cleaner in my creative endeavors.  The studio is also smaller than my previous space.  I'm learning that this change isn't necessarily a bad thing either. Having a tiny space has me inventing more strategic and compact storage options and it forces me to stop and think a little harder before I purchase more supplies.   Because I have limited working space, if I have it cluttered with stamping stuff, there's no room to pull out paints. If there's painting projects here and there, then I have no space for me to lay my drawing pad to play with pen and ink, etc.  I'm discovering that with less stash I'm creating new ways to use what I have in my art projects, while also focusing more on the things I have out on the work bench before moving on to something else.
Fifteen months ago when I was purging our cloths and storage closets (to downsize our home before moving), I asked the universe to help me learn how less can be more in all areas of my life.  Well I'm now learning that lesson, even in my studio where I don't think I was quite ready to put that concept into practice. The thoughts were there and I talked the talk… but I've come to realize I wasn't really ready to walk the walk and accept that challenge until the last few weeks when I parted ways with my CRICUT.  As much as I didn't think I'd be okay with saying goodbye to this dear creative toy – it was easier than expected and it was the final big item that needed purging.  Note to self:  Be careful what you ask for!  Note to Sis:  You're gonna love this particular hand-me-down for your scrapbooking!
Can I Do It Weekly?
Getting situated in our new place has taken me more time than I expected.  It took a mental toll on me that I hadn't planned for as well.  Jumping back into my creative world is something that has helped me move forward and get back to being the ol' Cindy again.  Well the ol' Cindy with some newness to her.  One of those lessons in life I seem to need extra classes in is learning how to not over tax myself.  Preventing burnout is easier said than done for me.  I'm determined to give myself a break and not push me too hard this year.  With that said –  I know that I'm not ready to commit to sharing my art with folks everyday on my blog.  Truth be known, I'm simply not that dedicated to taking pictures of my works or booting up the computer to write about them that often.  But I am going to challenge myself to share art on my blog at least weekly throughout the year if my health will allow.  And of course I'll share Lineweaving patterns, plus a fair bit of painting, stamping, and other drawing activities too.  So I hope that you'll put me back on your blog hopping list and come on over to visit regularly again in 2017!
Art Share
New art for new spaces! One of the things I've been trying on for size is chalkboard art.  I'm not fond of my own handwriting and personally drawn fonts are something I'm not too talented with.  Nevertheless, I'm trying my hand at playing with chalkboards.  A couple of times I did the "trace" method for my creations.  The lettering was definitely straighter on the board.  However, the creative process wasn't near as much fun.  It seemed more like a chore.  So now I'm just doing my own thing free-hand and giving myself permission to not be perfect, but instead to simply enjoy the creative process.  I painted portions of a door with chalkboard paint and have been having fun with it every since.  Like all the designs I've played with thus far – this one was inspired by something I saw someone else do on a Pinterest share.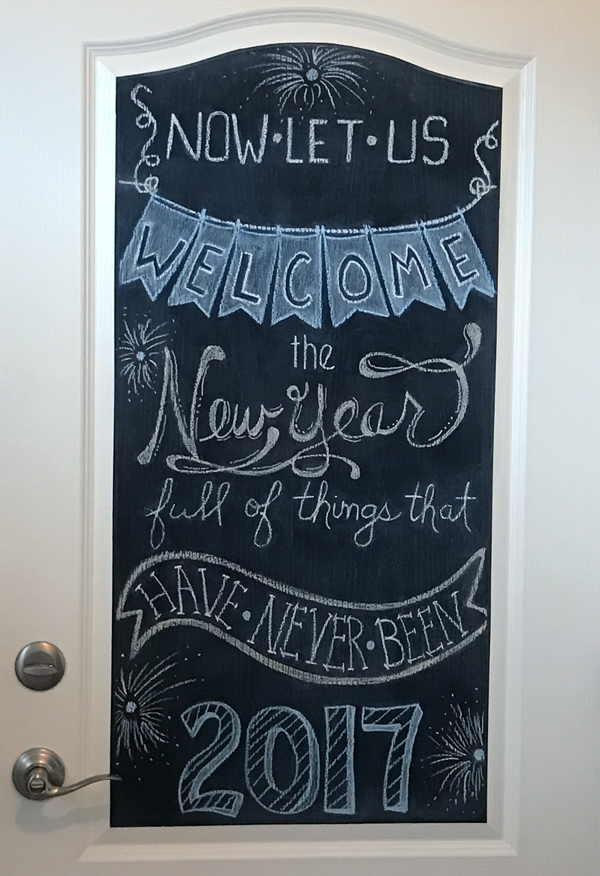 Hope you enjoyed the artful share and are inspired to create something new today!  See you again soon.
Hugs,
~Cindy