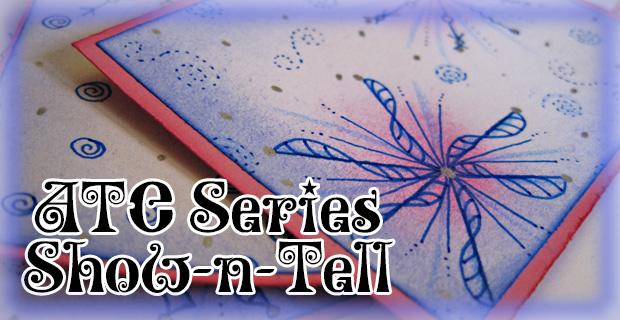 So I'm getting ready to host another ATC swap for the community in the LineWeaving.com forums. This one may be a little challenging for some of my line-art friends. That's because the theme of this swap is "Serendipity Color First" and the cards are meant to be made using a specific creative process for adding color and then for adding your patterns also.
Creating Serious Series
Since swaps usually garner a full stack of ATCs I thought this might be a good time to address the creative process for creating art in sets or series. I use more of an "assembly line" type process when working on a series of cards that is unlike the creative process I do when designing "one of a kind" art.
All at Once or One at a Time?
Basically I do all my drawings at the same time. Sometimes working on all the pieces as I go – rather than finishing up one card before moving onto the next. Then I cut and assemble my cards on a later date, but all at the same time – adding embellishments as I go if that's a part of the series. And then I finish things up by labeling, signing, and numbering them all in one sitting as well that's usually a day or two later.
When working with an art series I keep at least one thing the same throughout the entire series. Many times I actually have several things on the cards that are similar or exactly the same. For example – I may use the same color scheme throughout, or the same design elements. Other times I stick to a similar theme for all the cards in the series. This is true more so for the collage style cards I make. When working on hand drawn or painted ATCs I tend to use similar line strokes and patterns on each piece of art in the series.
Show and Tell Time
Here's a show-and-tell video to help show you the process I use when creating a series of hand drawn ATC's.
I plan to post the directions and sign up information for our next ATC swap at LineWeaving.com/forums – late afternoon on this very day. And I'm working up a video to show the creative process of the "Serendipity Color First" technique possibilities. I hope you'll come join the fun!
See you on the Inside!
~Cindy