It seems quite a few TV shows and commercials lately show the rhythm of a heartbeat on the screen.  I must have seen this a dozen times last week.  That's what inspired me to try out something similar on a doodle I was playing around with while sharing the couch with my husband.
Him watching TV and me drawing – that's the usual scene at our house several nights of the week.  You see it's hard for me to just sit still and watch a TV show, but if I keep my hands busy with a craft or drawing – I find I actually enjoy the time much more. When do you find yourself doodling?
Another Border Tangle?
I Zenned this line-weave pattern, "Zeart" and at first I thought this might just be another border type tangle, but while drawing it along a string – I found I could use it to make interesting shapes like the ones you see here in this sampler.  One shape resembles a fish like creature.  By staggering the pattern inside a shape you can get some fun stripe like filler patterns too.  I haven't tried it yet, but I'm thinking of making a grid type design using this tangle to make up the grid lines just to see what sort of affect I get.  It might be rather interesting!
————————————-
———————————————
Need a bit of help learning how to draw out my Heart Beat tangle?  Here's a video showing several ways to use this in your doodles.
————————————-
Here's the jpg version of the Heart Beat/Zeart Tangle Pattern: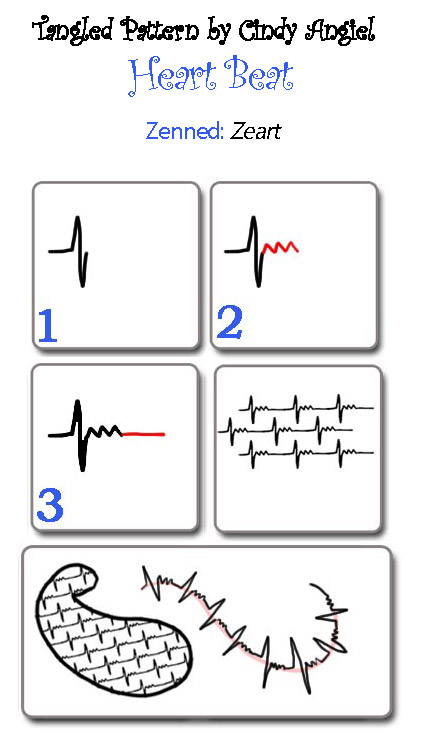 Download Link to PDF version of Zeart
Easy Barbed Wire Line Weave
Also shown in the sampler above is my super Easy Barbed Wire design, zenned as "Estwire." I've seen another tangle design that looks like a barbed wire, but it's quite a bit different. More detailed and realistic and I'm really bummed that I don't recall where I saw it. I think it was on Flickr.  And when I remember  (or see it again) – I'll certainly point you to it!  but in the mean time maybe you'll enjoy giving my super simplistic barbed wire tangle a spin around one of your doodles too.  Maybe consider using it as a string of stars rather than barbed wire?!
Below is the doodle pattern worksheet in jpg format that prints out on 8 1/2 x 11″ letter size paper and this is the link to the pdf file is you want that one instead.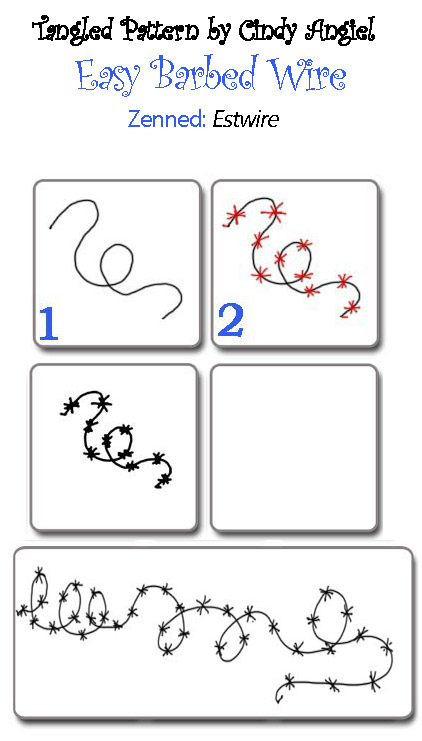 ——————————————–
Enjoy!
~ Cindy