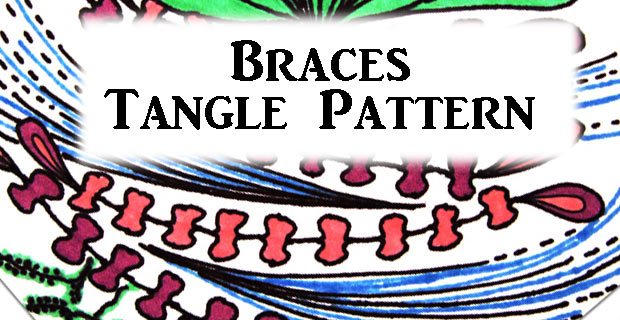 I was working on a scrapbook page a few weeks back that featured one of our 5 daughters when she was in braces.  Her photo is what inspired this new line-weave tangle I call "Braces"
It's created by simply joining together  left and right parentheses signs and then drawing a line between each shape to connect them together – similar to how metal braces on my teenagers teeth were connected with wire between them.
In the how-to video I've used it as a filler inside a star shape.  In the photo below I used it as a design element across the center of the page.  You could very easily use it along a border/string as well.
——————————
————————————–
Here's a 2-minute video showing you how to connect the lines to line weave this tangle. I hope you find it helpful.
—————————-
Download Designs Worksheet
Looking for the worksheet so you can add it to your line-art patterns?  Well here it is and you can download it to your computer by simply right-clicking on the graphic below and choosing the save option or you can click this link to get the pdf version of the easy-to-follow worksheet.
..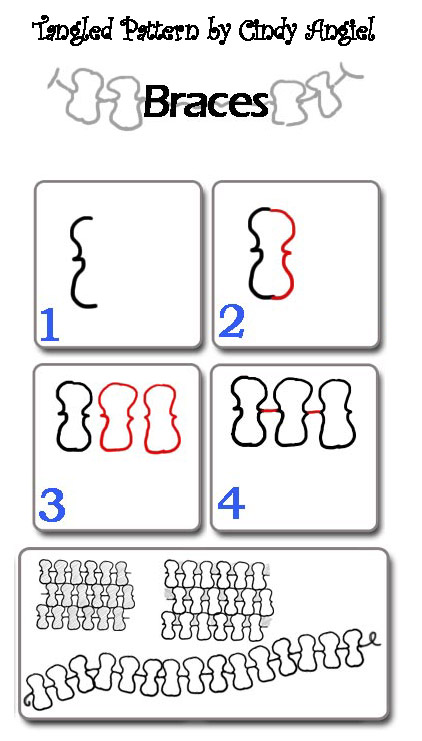 Let me know if you use this pattern on your Zentangle® and doodle projects. I'd love to see how you're using it too!
Tangles of Fun and Happiness to you Always! ~ Cindy