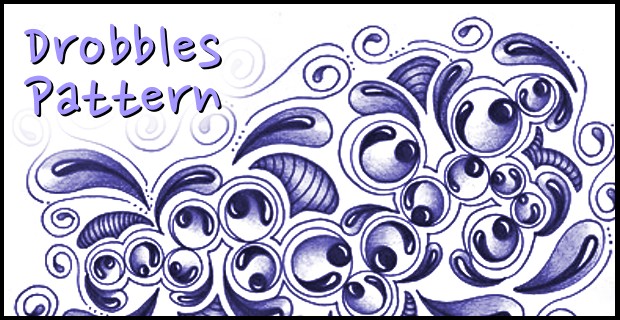 Can you draw a straight line?  I am extremely challenged when it comes to drawing a straight line.  And even more so when trying to draw a circle that is actually round. Invariably mine come out all lopsided and very non-circle-ish.  I do sometimes use a straight edge or a circle template when I want my work to look a little more refined than I can manage on my own.  However, mostly I just let my lines be crooked and my circles all caddywompus.  So much more often I enjoy the whimsical touches and the non-exact look of hand drawn repeat pattern art!
Drobbles is one of those patterns that I would never be able to draw free-hand if I were shooting for perfection.  Lucky for my stress levels – I absolutely NEVER set my goals on perfect lines.  Such a goal would have me tossing my hands up is frustration if I did.  And just think of all the fun drawing and coloring I'd miss out on if I gave up.  So even though I can't draw a truly round circle worth a hoot – Drobbles is one of the patterns that I enjoy so very much because of the way it feels under the tip of my pen.  It seems I'm always attracted to the patterns that can be accomplished in a single stroke, when it looks like it takes a bit more.  I even have an entire drawing process that I call "Single Stroke Abstracts."  One of these days I'll share that with you as it is the one I use most often as a pain-management therapy.
Today however, I'm posting to share with you my simple little "round-ish" pattern called Drobbles.  Unless you are one of those talented people who can truly draw a round circle – I encourage you not to get hung up on shooting for perfect roundness when playing with this pattern.  Now if you REALLY just have to get a smooth line on your paper to feel good about your art – then pull out that circle stencil and have fun with it.  😉  I do that myself every once in a while.  I know it's not the Zentangle way of creating repeat pattern art, but then again neither is anything else I put to paper.  One of these days I'm going to sit down and do a real Zentangle just so's I can say I did it. LOL
Whatever your method – be sure to enjoy the drawing process.  Relax.  Have fun with it!  That's what I did in this quick little how-to video of Drobbles.  I think it might just be the quickest video I've ever done at just a wee bit over 1 minutes:
.

.
Here's the free pattern worksheet for you:
I'm sure you've seen my Repeat Pattern Art Stacker info page.  Here's a little stack I did using Drobbles.  It's a perfect pattern to use in a stack because it's so simplistic!  Don't believe me? Play with it in a stack and see what you think!
I'll share some of my not-so-round circles in the gallery at LineWeaving.com.  Will you?  I'd love to see yours too! 🙂
Enjoy!
~Cindy