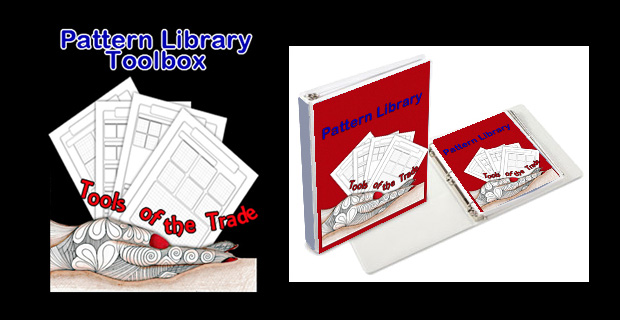 Getting and keeping those patterns in order can be a challenge for some folks.  So how do you go about doing it?  Keeping your patterns organized that is.  I've been using a library system that is both in hardcopy and in electronic format.  I currently have over 700 patterns stored in a 3-ring binder and those same patterns also stored electronically so I have access to them in both formats.
Visual Categories
They are all stored pretty much together in  what may seem like an unorganized jumble of things at first glance, but take a second look and you'd learn that it takes me about one minute to lay my hands on any type of pattern I want to use in my project.  I use what I call Visual Category pages to label where patterns are filed in my library based on my personal interests.  Here's how I keep my patterns filed:
I have two main library tabs. Behind one of them I put all my own patterns and I usually draw 5-8 patterns per page once in a while I have more.
Behind the second tab I put patterns from all other designers.  Those pages also have a lot of patterns on them.
None of these pages are put in any particular order behind the tabs.
Then I have category pages in the front of my book that represent my pattern interests.  Each of these category pages have either 9 or 16 blocks on them and in each block I draw a miniature version of patterns that fall into that category.  Here's an example of a page from the Whimsical category.
Along with each miniature window I've included the pattern name and page number where the pattern is located in my pattern library.  So when I'm looking for a whimsical pattern to add to a project I don't have to flip through all those patterns in my library.  I simply flip over to my visual category pages and in a matter of a minute I've picked out the pattern(s) I was interested in.  Usually I already know how to draw the pattern that catches my eye.  But if I don't remember the steps – the page number to the steps is right there for me. 🙂  The sample page above indicates the step-outs for both Spearls and Childs Play can be found on page 2 of my library files.  Chimidle is on page 58.
Hybrid Organizing
Personally I like to draw the step-outs for each pattern that I put into my binder.  However I must admit that sometimes I do a quick copy/paste/resize thing with the digital worksheets I've downloaded from other websites.  Again – placing several patterns on a single page before printing and adding to my hardcopy library.
I also sync my hardcopy library with an electronic version.  I do this by scanning the pages I drew and then I store them on my computer using the same numbering/tracking system.  Because I upload this electronic copy of my patterns to a cloud server, I also have it available anywhere I have a WIFI connection.  My current favorite cloud server is Evernote and in a future article I'll explain in more detail how I use this service for the electronic version of my pattern library
I like having the hardcopy library in my art studio, the electronic version on my MAC for when I'm near the screen, and of course the cloud version I view from my ipad or iphone whenever I'm on the road for a while.  It especially comes in handy when husband is driving and I'm keeping myself entertained on those long car trips he enjoys…. and I manage to get through.  LOL
Now It's Available for You!
I've been using this type of filing system for quite a while now and I have plenty of room in my binder for another 300 patterns or so.  It's the most efficient way for me to keep my patterns organized, easy-to-find and accessible when I want to reference them.
So I packaged together a kit that includes all the pages I've used in my own library along with a few extras that I thought you might like using.  This is now a full set of templates and printable tools that I've combined into a PDF file.  I've also included a 12-page guidebook showing you how to use the templates to help keep track of your patterns and tangles using the template pages.  I'll be producing a set of informational videos during the next week or so.  If you'd like more assistance you'll be able to view them from inside the LineWeaving Community forums at: http://lineweaving.com/forums.
There are a total of 35 template pages you can print to meet your needs, and of course you can print them however many times you want to.  So as your stash of patterns grows you won't have to purchase new journals or grid tablets to track them – you simply print new templates from this pattern library as you need them instead.  I'm pretty sure I've covered most all the bases with the step-out page formats that include both white blocks as well as gridded blocks.  But if you don't find one in there that meets your needs you can send me a message about what you would like to see and I'll do my best to create a page that meets your unique needs.
You can grab a copy of the kit over at CraftHappy.Art-Shopette.com if you're interested.  I hope you find the kit helpful for you!  And if you have any questions give me a shout.  I'll try to get some how-to videos up here soon.
Cheers,
~Cindy