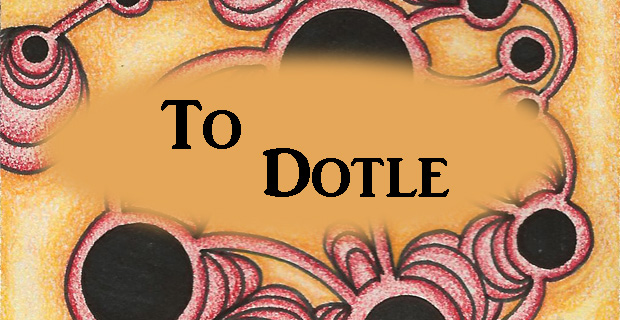 If you've been following my blog for long you're probably already familiar with several repeat pattern art drawing methods such as the Zentangle method of drawing, Pattern Stacks, ZenDangling, etc. Well here's a new one for you.  This one was developed by my friend Ellen Wolters, who is an art therapist in the Netherlands.  Where she assists her clients of all ages using various artistic methods.
As she worked her way through her own Inspire, Inspire art-journal last week using the prompt "Outside My Comfort Zone" she developed a drawing method she calls "Dottling."  To Dotle (as it applies to Ellen's drawing method) means to use dots as the starting point in a repetitive pattern art project – leaving each dot as a stand-alone object on the page.
In the video below I offer you a demonstration of how the Dotle drawing process goes.  One of the things I'm sure you'll notice is that the process is simplistic enough that even the youngest of artists can Dotle.  And Dottling could easily be accomplished using a wide variety of mediums.  When I first saw this method my thoughts immediately took me back to the days when I taught pre-school.  I think even tiny tots could dottle using finger paints or maybe clay dots with clay worms woven around the dots.  Oh what fun!
Dotle Video Demonstration
About Ellen's Website
For more information about how Ellen developed this method and the wonderful things she's doing over in the Netherlands, be sure to visit her web blog at: http://www.tekenpraktijkdeinnerlijkewereld.blogspot.com/ . Because it's primarily written in Dutch you may want to use the Google Translator or some other web tool to read it in English.  However, Ellen does include an English version of many of her blog postings too.  Her Dotle method can be found on her  Journal Journey page.  While you're there be sure to check out her patterns page and pick up some mandala templates as well.
Enjoy!
~ Cindy