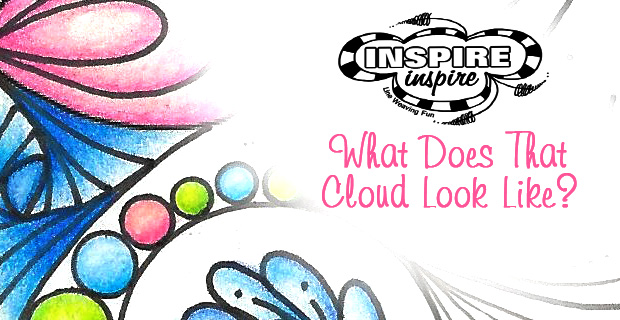 Aaaaahhhhhh….. time for some relaxing lineweaving in our art-journals.  Did you ever play that game where you lay on the nice cool grass on a summer day and look up at the sky?  Then while letting your eyes take in the shape of the clouds you ask yourself or the friend laying next to you,  "what does that cloud look like?"  The memory of that game takes me to a relaxing place.
There are days when I still play that game while sitting in my garden swing which is one of my most favorite places to relax in the summertime.  And when I'm not outside on a summer day, but still wanting that same relaxed dreamy feeling – sometimes I'll just rest my head back on the pillow and think those same thoughts, picturing big fluffy clouds that resemble dragons, swans, funny looking characters, or a ship sailing across the sky.  Slowly as it moves it changes from a big nosed lady to a bunch of bananas drifting along in an ocean of billowy marshmallows.
I just love the soft relaxing feelings that game has always left me with!  So here's the prompt for our current Inspire, Inspire Journal page:  What Does that Cloud Look Like?
You could go lay down in your yard for a minute and find a cloud to use as your starting string for a Zentangle on your page, or maybe you'll see a shape that would be fun to play with in your journal.  Maybe the prompt takes you back your your childhood and the other games you played with your school mates.  If so – then go ahead and create a page that represents your friends or games from  your youth.  Maybe you think of a cloud as something far away such as a dream you have sitting out there just waiting for you to grab hold of.  What does that dream look like?  If the prompt brings to mind cloud like patterns you've used before – maybe this is your opportunity to play with those on your journal page for a while.  Then again you may decide to simply go with the easy relaxed state of mind this prompt might bring to your consciousness and take a moment to let lines flow across the page in a swirly flow of cloud like waves.
Whatever you choose to do with the prompt is totally up to you and of course it will make your art-journal page so uniquely you!  Have fun with it!
I look forward to hearing about your journal page and maybe – just maybe you'll be comfortable sharing with us in the lineweaving.com gallery or in our flickr group for the Inspire, Inspire Art-Journal project – or simply share a link with us to the blog page you write about it.  If you do – I'd love to visit and see your wonderful creations!
Have a wonderfully relaxing weekend!
~ Cindy