This is a "charming" little line/weave tangle that's based on a grid design and works wonderfully as a shape filler.  There are various shading options and I have found myself using this one often lately.
In the below creation I used it on the pedal that's 3rd from the bottom.
—————————————–
—————————————–
Here's a quick video showing how to draw it.  Please, please, please ignore the fact that I don't draw on screen very neatly.  Then again, sometimes neatness doesn't really count.  😉
—————————————–
More Lucky Charms Tangling.
BTW – This piece also include several of my other pattern designs: to include Swirly Leaf, 8-Dot Center Piece/Zoppic, Fishnet Stocking/Shnocking, and Round-Peg Square/Rosquire. I'll be showing how-to's on those patterns in future posts.
And you're welcome to download the design worksheet if you want.  Right click and copy the photo below (fits on 8 1/2 x 11″ letter size page) or download the pdf version of this tangled design worksheet.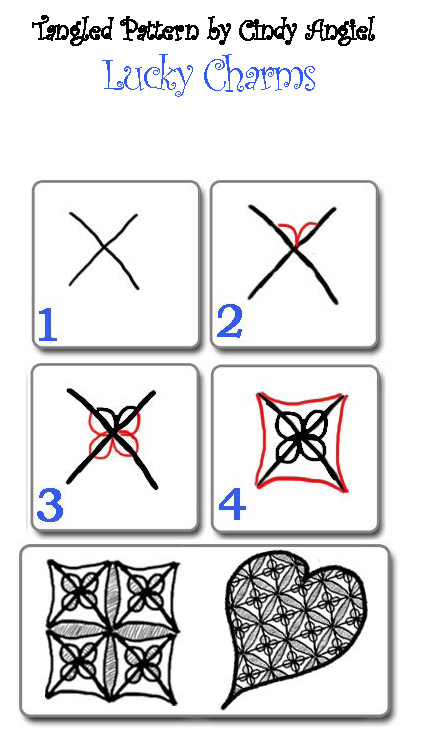 If you use this pattern in any of your artful projects, I'd love to see your creation!  Please leave a reply here and show me what you're doing with it.
Design Credits
In the "Petal Swatches-01" piece shown above I included a pattern called Keeko (3rd petal from top). It is an official Zentangle® pattern that's great for filling in a shape. Sandy Bartholomew shows how to draw Keeko, at her Beez in the Belfry blog. Suzanne McNeill does her take on this design (which she calls basketweave), at her Suzanne McNeill blog.
In the second example piece shown above I also doodled a "stem topper" that looks like an upside down "spinning top" toy.  I saw this on a blog somewhere or another and have duplicated it in many of my own designs.  Unfortunately I do not know the original artist of this design nor where I first saw it.  If anyone else is aware of it's beginnings – please let me know so I can give proper credit to the creative mind that came up with it.  I love this little ditty!
~ Wishes for Doodley Fun and Hugs from Cindy