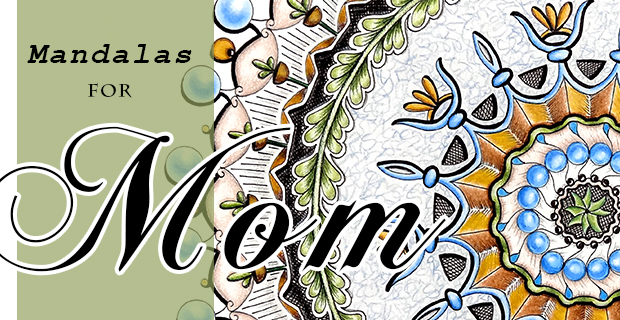 Today I have a mishmash of things to share with you.  First up is a set of Mandalas.  I spent some time this last year at my Mother-in-law's home visiting and helping to get some house updates accomplished for her.  And in my "off-duty" time, I created Manadalas for fun and for home decor.  Here's a set of three I did for wall hangings in her room where guests stay.  They hang over the head of the bed and are in 14×18 size frames.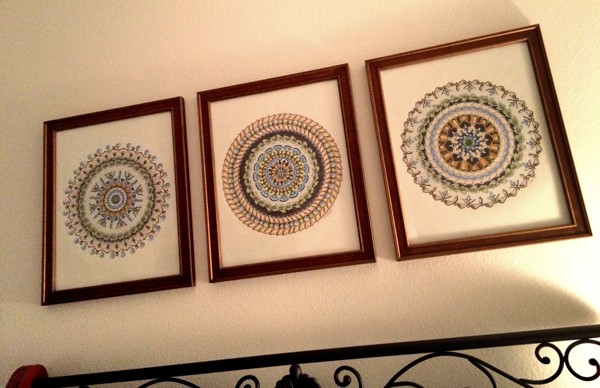 I know that's not the greatest picture, but it's the only one I could find on my computer from that view.  Sorry about that!  Before putting them behind glass I took pictures of the artwork so I could make other things from the drawings.  Here's a set of greeting cards I did using these same three mandalas.  Again – sorry for the fuzzy picture.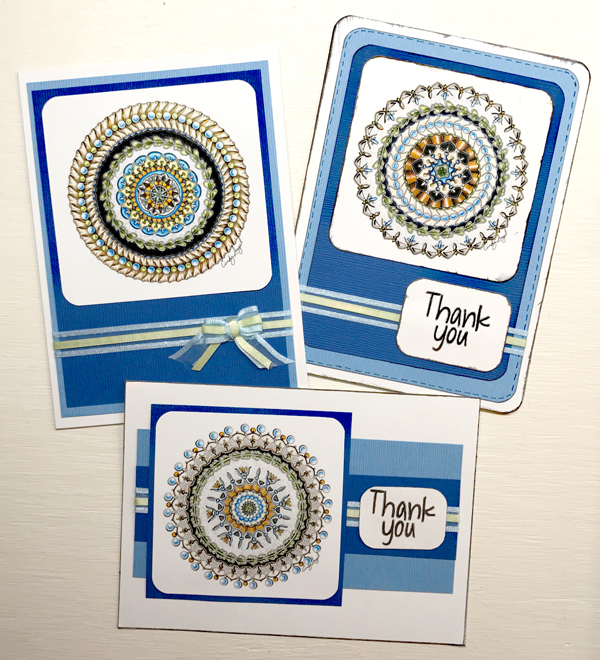 How do you all use your drawings?  Do you make copies or take pictures of your work and re-use the art on other projects besides just for the original creation?  I'd love to hear from you on this as I always enjoy learning about new ways to use our art!  Most of the time I remember to scan or take pictures of my works.  But sometimes I pass things on without doing so.  And I'm usually sorry when I do, because invariably something comes up that I think that "one that got away" would have been perfect for.  LOL
Fingerless Gloves
During our travels this last year I also did a fair amount of crocheting as it is something I could do while sitting in the passenger seat for many miles.  I did up some fingerless gloves here and there.  Anyone else out there like these things?  I think they are great.  My Mom as well as Greg's Mom like them too – for keeping their hands warm while inside the house, especially when the air is a bit damp outside, but not enough to really crank up the heat inside.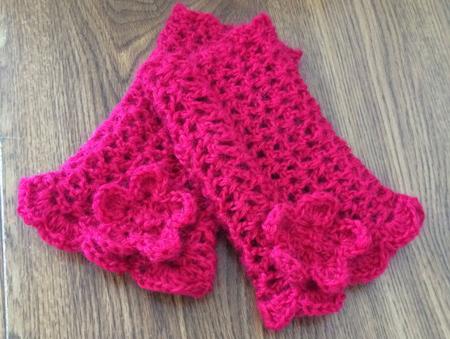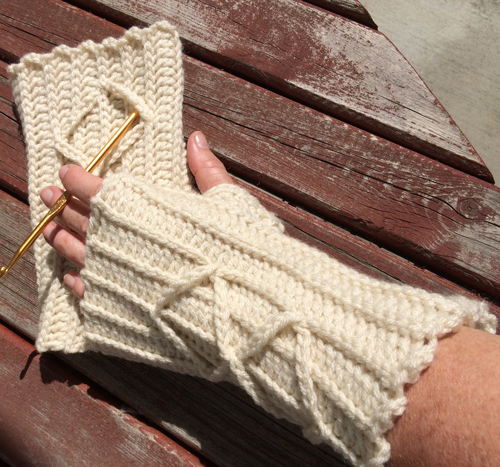 More Current Works
So that was way back in early 2016.  Old news.  I do have pictures of other things I did during the last few years while I was absent from my blog and I'll probably share them in my next few postings. Just to show I wasn't doing nothing while I was gone.  LOL  But also, maybe something I did will inspire you to create something new today!
So what's going on right now in my little world?
Well this week I worked/played with mono-printing with and without a Gellie plate.  I'll share that with you in an upcoming blog post  Here's a small teaser picture…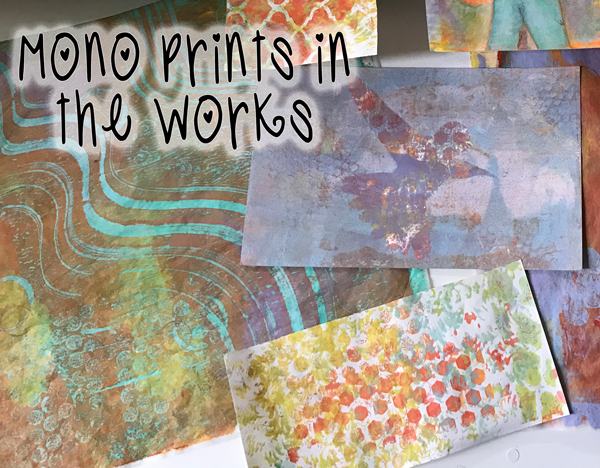 And I did a little crocheting too.  Working up a few heart motifs for a bunting that will be added to my room decor (probably the fireplace mantle) for the month of February.  Right now I have six hearts completed and I think I have enough red string to do a couple more.  Then I'll need to do a white or pink something in between the red.  I don't have any string in those colors, but I do have plenty of yarn in both.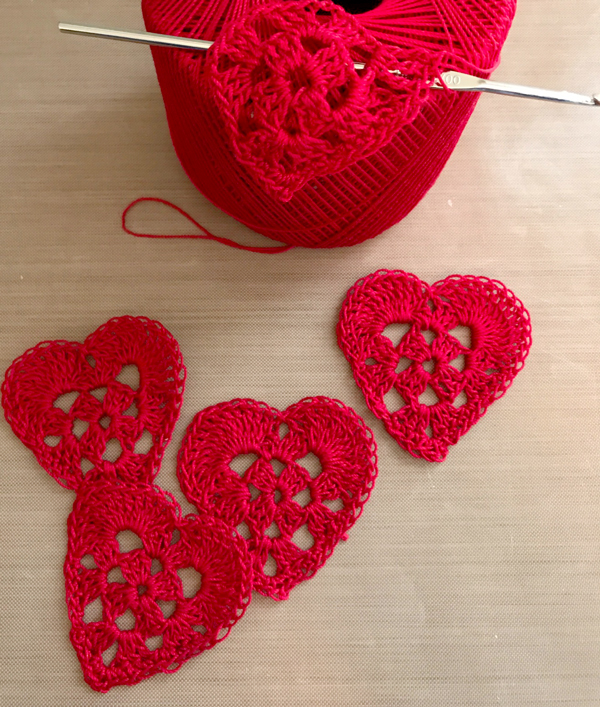 It's a small project that's helping me use some of my string stash. I work up a heart or two in the evenings while sharing TV time with hubby.  Can't stay awake in front of that tube, unless I keep my hands busy. So this is a good little project to keep my eyes open.  Anyone else have that problem…. staying awake in front of the TV?  What sort of things do you do o keep your hands busy?
Mother Nature In White
We've had a fair amount of snow and rain these last few days.  Although several areas around us have had to evacuate because of flooding, we've been lucky.  Puddles in the yard, but nothing too big and no water in the house.  We built outside of the floodplain and on higher ground.  This is what we saw outside our family room window earlier in the week.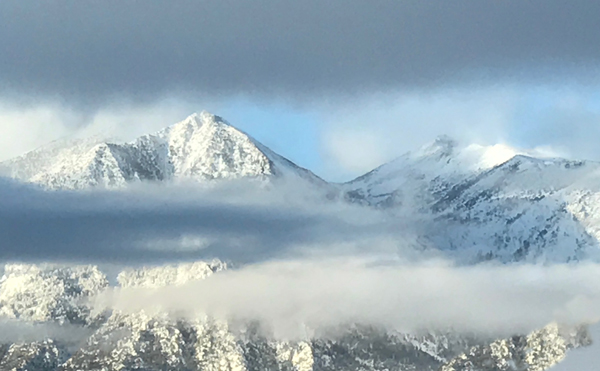 That's the Sierra mountains – Jobs Peak and Job's Sister.
Everyone stay high and dry and warm! Thanks for Visiting Today!
~ Cindy