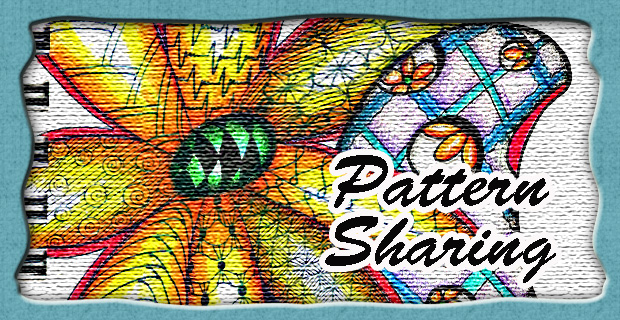 So I'm in the studio yesterday gathering up the last of my 2011 loose-leaf journal pages and compiling them into my "creative yearbook" and "book box" – when just for gee-wiz sake I decided to count the number of repetitive patterns I came up with last year.  Well the number turned out to be 142 .  And after looking back to the previous years stack of pattern designs, that looks to be about the average for me.  Who knew?  Not me.  I never actually count them before now, I had just guessed based on filled pages in my books.  Sometimes it's fun to learn such weird stuff about oneself.
More Pattern Shares
Honestly, I know I'm not the only one out there who came up with that many patterns this year, however 142 still seems to be a rather excessive amount.  My addiction might be worse than I thought!  I'm getting the feeling though, that there are other pattern addicts sneaking into this blog now and again to feed their addiction.  So to support the group accordingly, here's a couple more patterns you might enjoy incorporating into your sketch projects:
Pattern(s) Video

Pattern Worksheets
Number Crunching
I started this blog post quoting my pattern count for the past year – so continuing on the subject of numbers: Last year was the first time I decided to dedicate an entire blog to the subject of my doodles, sketches, and scribbles.  I wasn't really sure if it would resonate with others, but I figured there would be a few people here and there that might enjoy following along with the chatter.  If you'll indulge me for just a bit, I'll do a little bragging.  LOL
I'm totally tickled to say that there are more folks following the Rainbow Elephant than I ever thought would. I went from basically just blogging to myself – to 337 subscribers through RSS and Email now.  Yippy! This little spot nestled into the world wide web got an average of about 400 visits a day in 2011 (when the darn server isn't acting up) and the day after Christmas was my biggest "hit day" of the year with 1,247 visits.  I fell off my chair when I saw the stats on that day.  Then picked myself up with a big grin on my face and celebrated with a piece of holiday chocolate that I didn't really need.  And I had another chocolate this month when I topped that number on the 11th.  😀  If this keeps up I'm not going to do well on this diet.  I need to think of a different celebration thing!
It seems the postings that folks liked the most were those with pattern how-to's and the Circular Sunday templates appear to be popular with everyone too.  So with that said, let me just share with you that my plan for this year is to continue sharing patterns and templates.  And there will be journal prompts along the way for everyone who's doing the Inspire, Inspire Art Journal- 2012 project.  I'll be including more postings featuring the works of other artful souls , some craft projects here and there, along with a bit of just plain ol' fashion, "Cindy Chatter" about mostly nothing at all, except my rambling thoughts.  Sort of like what this posting has turned into.  LOL
Thank You EVERYONE!!
Generally speaking – I am just crazy enough to talk to myself quite often… well to me and to my pup.  She thinks I'm a bit weird too, but she still hangs with me just the same no doubt because I bribe her with food and lovin's.  😉  It's fun to know that I'm not just talking on line to me only anymore.  I enjoyed blogging on this subject in 2011 and will continue to do so again this year.  At least as often and maybe more.  That will depend on health and daily activities.  You'll have to let me know if I'm over-loading you or starving ya as the year moves forward.
I thank you all sooooooo very, very much for your kind comments and interest in this colorful little elephant.  I'm enjoying this new year of blog shares thus far and I hope you'll continue to drop in, pick up some fun freebies, leave comments so that I know if I'm on the right track with ya, and of course – have a good time expressing your creative self with pen and paper!
And for those of you who may not know – when I opened up the LineWeaving.com community for us all – I included a gallery where you can add photos of your artful projects.  Please do jump over to the media center and share your works with others, so that we may all be inspired by your endeavors too!
Today's Assignment: Share Your Art with Someone!
~ Cindy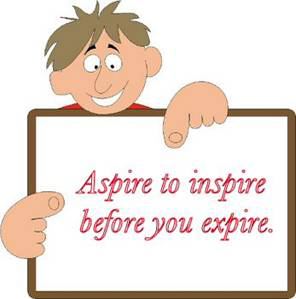 This drawing is now available in my print shop too! You can find it over at FAA by searching under the term: hand art or simply go straight to my Fine Art America Gallery!