Fishnet Stockings come in all types of patterns and this line weave/tangled design that I've zenned as "Shnocking" was inspired by a very simple mesh weave found in a pair I came across the other day.  This pattern can be used as a filler or along the border of  a string as well.
Here's a quick video (only a minute and a half long) that shows you how to draw it and then use it to fill in spaces on your tangley projects. If you can draw the lower-case letter L in cursive – then you'll master this simple design in no time at all!
—————————————————————
This ATC I created is an example of how to use it along a border.
Now it's your turn.  Give it a go and do be sure to leave a reply here telling me where you're sharing your artful creations.  I'd love to take a look at your projects too! Grab the graphic below to use as a worksheet or download the pdf version of it here.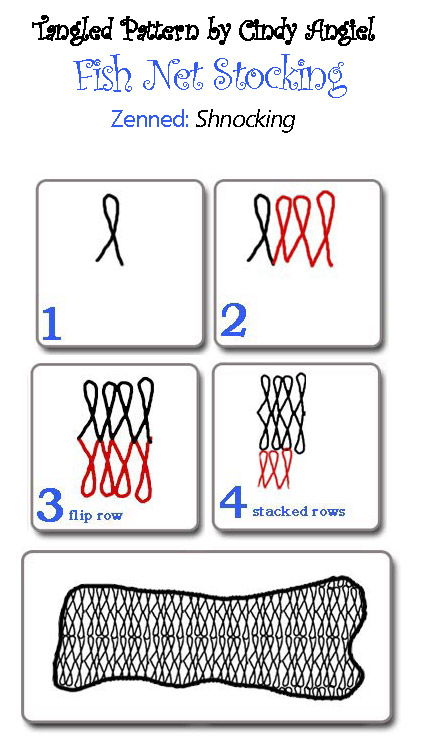 ———————————————————————-
Tangley Credits
I also used the tangle pattern Fern in my ATC.  It's my understanding it was created by Jane Monk.  Mine's not a very good example.  So go see what it's really supposed to look like at Janes website.  She illustrates the steps for drawing it at her BlogBpot: Jane Monk Studio.
Hugs and Happy Tangling to you!
~Cindy