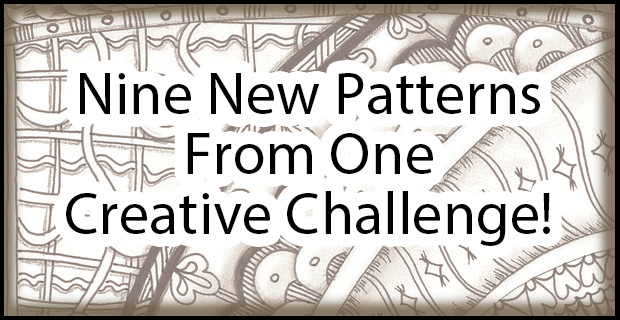 From time to time I do a little practice piece that is nothing more than a page divided by parallel lines and patterns filled in each section.  Sometimes when working this type of practice piece I challenge myself to see if I can come up with new patterns during the drawing session.  I can usually come up with one or two.  This go around my pen found 9 new ones.
So during the next few days, I'm going to share these new patterns with you.  I hope you'll enjoy them and find ways to incorporate them into some of your projects.  And the next time your not sure of what to draw, but you're wanting to be creative with pen and paper – well just draw some parallel lines on your page and have a go at it.
Here's a little video showing you the results of my practice sheet, a couple new pattern how-to's, and a peek at some of the patterns coming your way during the next couple of days.
LineWeaving Pattern Worksheets:
Here's your freebies to download and refer to if/when you want to.  To save them to your computer, simply hover your mouse over the picture; right-click; and select the save option presented by your browser.  Print and enjoy them as you please.  🙂
Remember – I have more coming tomorrow and on Tuesday of this week also.  Then on Wednesday I'll be doing the drawing for some Mandala stencils!  Let me know what you think of these two patterns.  I look forward to hearing from you.
Have a wonderfully doodley day!
~ Cindy