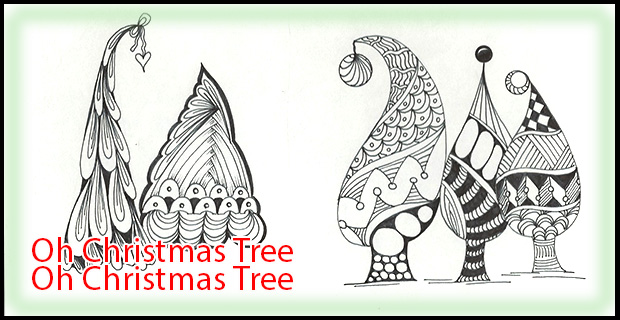 While Mom has been in town for a couple of weeks we've been doing up some Christmas cards for her craft fair tables.  We did a sizable stack of cards and many of them were Christmas trees.  Today I'm sharing some of our ideas with you and I hope they will help you get started on your cards too….. I mean if you haven't already started.  LOL
Plus I have a new pattern to share with you called Tri-Linez.  It's an easy pattern and it works great as a filler pattern on any project.  I've used it here on a Christmas tree.  Cool – Right?!
Here's a video showing some tips and examples of how to pull together some Christmas Tree cards for your family and friends too!

I'll be posting some of my greeting cards into the gallery at http://lineweaving.com/forums to give you more ideas for your cards and a few more postings on greeting cards coming this week. Look for them! 🙂
Pattern Worksheet for Tri-Linez:
Hugs to you All!
~Cindy
P.S.  Visit my Art-Shopette for Downloadable Print Sheets for Christmas Tree Greeting Cards and More!  🙂