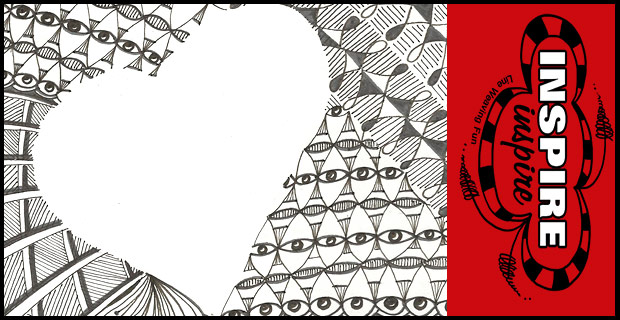 INSPIRE, INSPIRE!
Oh yes my friends I'm still working away on my Inspired journal.  Some weeks I spend more time in there than others.  I hope that you have been inspired to keep your's chugging along as well.
Need a little boost to re-open the pages again?  "Open Your Heart" is a prompt I used back in early February and I apologize for just now getting around to sharing it with you.  Keep in mind that no matter when the prompts appear here on my blog, you can use them in your creative projects whenever and however the mood of your muse strikes you. 🙂
Inner Reflection
When pondering this prompt I was thinking about a few things that were laying heavy on my mind and I was conscious of some enteral self-talk that wasn't the greatest.  I needed to get myself into a better place with things and move forward – into a better emotional place.  I was working through getting rid of some negative thinking and replacing those thoughts with more open thoughts.  I find that when I feel "stuck" in thoughts that aren't doing me any favors, I can sometimes get to an improved  state of mind by working things through my pen.
Since I was working internally on opening my heart and my eyes to thinking about my issues in a more positive way, I went with some patterns and a design that reflected those feelings.  Here's the page I came up with for this journal prompt:
When I'm drawing in my Inspire, Inspire journal it's not unusual for me to be reflecting on current events in my life.  And in most of the pages I have messages to myself.  And they are usually hidden messages.  Meaning others looking at the pages won't know what I was working through or that there's even a message on the page.  But as I revisit pages from the past I find myself floating back to the thoughts that I was experiencing at the time of the drawing and I can see personal growth and changes I've made in time.  It has a therapeutic affect on me to see where I was and where I am now.
Of course inner reflection isn't necessary to enjoy creating a page using an inspirational prompt!
So….now it's your turn.  Flip open your journal or maybe just a fresh page in your sketch book and think for a moment about the phrase, "Open Your Heart" and let your thoughts wander.  Then pick up your favorite pen and doodle a little something on the page that is reflective of the thoughts that came into your mind.
Take your time and let those words role around in your head for a while.  Maybe play with it for a day or two.  And if this prompt doesn't help nudge you along, well that's okay too.  I hope that whatever you have going on in your life today will inspire you to put some patterned designs on the page – and if you're feeling up to it – please share your page with us in the LineWeaving Community Gallery or maybe in our Inspire, Inspire Flickr Group.
Enjoy!
~Cindy
>> >> See all my Inspire, Inspire Journal Prompts!
.