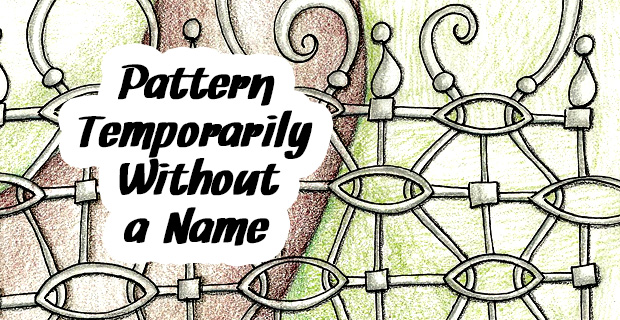 I hope everyone had fun winter holiday celebrations. I know that I did!  I found myself in a busier than usual creative state here towards the end of December though.  Had to lend a heavy hand (and way more time than expected) to a decorating contest at work while also trying to finish up the card-creating series I was doing.  I did get the last video(s) posted to YouTube, but neglected to get it posted here.  In it I featured a few cards with extra folds and you can see how I repurposed some of the mandalas I accomplished earlier in the year.  If you want to watch them – jump over to my YouTube channel and check out the Folded Cards Part One and Folded Cards Part Two videos.
For today I have a new pattern to share with you.  It's one I developed based on a pattern that was embossed on a Thank You card I recently received.  I was drawing a total blank on the name and just started referring to it as the pattern temporarily without a name, while working up the video and the worksheet.  So in the end I decided on the name: TWOAN which stands for….. "Temporarily Without a Name." 😛
Here's the pattern worksheet.  To save it to your computer simply hover over the picture. Right-click on your computer mouse and select the save option of your choice.
Here's a video I did showing how to draw it and several creative options you could consider while playing with it in your sketchpad.  In this video you'll see the first time I drew it after I came up with the step-outs.  Since that time I've had a chance to doodle with it more.  You can see some of my playtime results just below the video here.
Below are a few sample pages I did using the Twoan pattern. Thanks for looking!
Have a great doodley day!
~Cindy