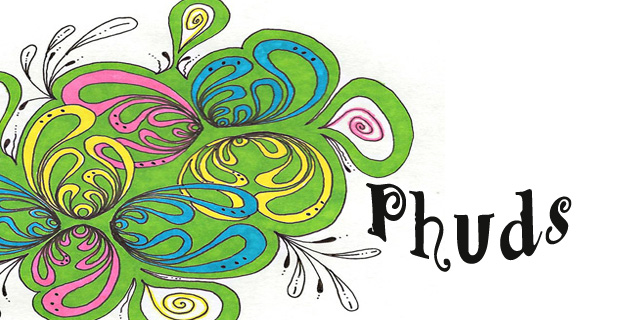 So here's a pattern I came up with a few months back that I thought you might enjoy playing with. It's called Phuds and it's one of those that you can easily put your own twist on. Filling the arms of the Phud with whatever design fits your fancy and makes your project uniquely yours. As you'll see in the video although I've broken down the process into 4 easy steps – I prefer to draw my Phuds with a single line. That is unless I'm stacking them one on top of the other like you see in this project that I call, "Party at My House".
A New Zendoodle/Line Weaving Lesson
This is another IPad generated video that I created using the "Explain Everything" app. It's about 5 minutes long and shows you how I create my Phuds pattern. In it I also show you how this pattern can go from pretty to whimsical by simply adding your own elements to it.
Here's another project I did using this Phuds pattern and it also includes the Blasing pattern I showed you in my last blog posting.
Grab the worksheet below and add it to your growing collection of patterns! Simply mouse over the photo, right-click, and then save it to your computer for future use.
I hope you enjoy creating Phuds on a project in the near future and the Rainbow Elephant viewers look forward to seeing more of your art too. So be sure to share with us all!
IPad App for Line Weaving Movies?
I received a couple comments on my YouTube channel and some in my email box too asking me about the application I used to product the video I generated on my IPAD. Before posting last week's video I tried several different teaching applications made for the IPad (first generation) which are similar in nature. Each one specifically designed to allow for capturing screen drawings, transferring them to a movie format, and then sharing them with students online. The Explain Everything by MorrisCooke app turned out to be my favorite for creating line-weaving lessons on the IPad. Like all software products and applications it too has a few drawbacks to go along with the benefits, but overall it's the one I'm using for now….. until I find something else I like better. LOL In the ever changing world of applications you never know what's just around the corner.
Have Fun Weaving Up Some Line Art Today!
Cindy