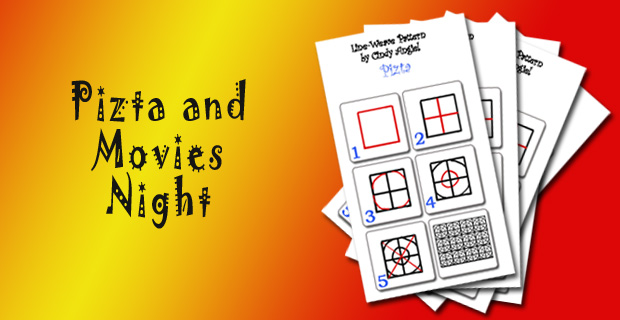 Remember the Movie Camera art I had on my previous blog post? Here's a photo to show you the piece of clip-art I found online turned into a finished project created with simple line-weaving patterns.  Below I've given a bit more about the back-story behind this creation.  I hope you find it interesting to read.
I've also added a new pattern to play with too! Wahoo.  New patterns are always fun.
.
——————————————————————
Inspired by Friday Night Movie Night
Our family has had a long standing tradition of spending Friday night eating pizza and enjoying a movie together.  When the kids were little we called it "Pizza & Disney Movie Night".  Now with the gang all gone, Greg and I just call it "Pizza Movie Night."  Sometimes we even forgo  our romance or mystery movie for…. yes a Disney cartoon – or Pixar.  😉  After all – we do have 8 grandchildren and one great grandchild now.  When we're all visiting together we do need to be up on the latest movie gossip in their world!
As soon as we get home from work on Friday nights we get tucked into our little house on the prairie with a big screen TV, surround sound, and our favorite pizza (white sauce, chicken, artichoke).  After our week of office work we always look forward to this treasured evening of relaxation and snuggles on the couch – leaving the world outside and far away from our thoughts.
So one particular Wednesday (while longing for Friday to arrive early) I was thinking about this little tradition of ours and I was instantly inspired to weave up a creation about our special Pizza Movie Night tradition.  I did a quick search online for the terms "movie," "movie camera,"  and "free clip-art" to see if something would come up to give me a jumping off element for starters.  When this basic movie camera pop on my screen I knew it work just perfect.
I downloaded the clip-art. Saved it to my hard drive and then went back to work and….. promptly forgot about my movie camera clip.  When the phone rings and I get side tracked with REAL work – that's just the way things go sometimes.  Then when I got the 3rd email in one week from readers asking me how I created my videos it reminded me again of this movie clip.  I printed it and had a good time doodling it up just so I had something to put on the banner for my post about how I create my Rainbow Elephant videos.
——————————————————
At the Movies
——————————————————–
Pizza Shape Pattern
I pulled this pattern zenned, "Pizta"  from my archives to share with you this week too.  Enjoy!
.
—————————————————-
———————————————————————-
Pizta Line Weaving Worksheet
.
Fun – Right?!  So now it's your turn.  What traditions do you have that can inspire your next line-art piece?  Tell me about it!  Show me  your art! I love hearing from you!
~ Cindy Angiel
Is it Friday yet? 😉