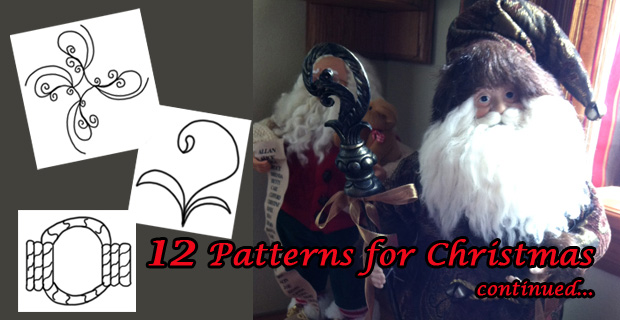 "The stockings were hung by the chimney with care. In hopes that Saint Nicholas soon would be there." He dropped off at the Rainbow Elephant blog in the wee hours of the night and blessed these new patterns for me to share.  From another one of my Santa dolls comes three new ones.  Here's a How-To Video showing you the steps and where the inspiration came from.  Below that are the downloadable pattern worksheets.
Xerexez Repeat Pattern
This Xerexez was inspired by the swirl in the staff of my wizard like jolly ol' elf.
Zivts Line Weave
Another easy little design inspired from the same curve of his walking stick, I call Zivts. See if you can draw this one in a single continuous line. Then repeat several more along a curved string for a row of growing things. Maybe nest them inside a bubble of sorts – mixed with other frilly patterns. It could add to your next floral scene.
Quanxi Repetitive Pattern
Now here's one more inspired straight from his belly shaking like a bowl full of jelly. Add this pattern to a nautical project and I do believe it will give you that look of latched ropes in a slightly different way. But one that will surely please the eye when your line weave is complete.
This is our Christmas day celebration. And a quiet romantic one just for me and hubby today…. Well of course Miss Lacy our fir baby will be with us too. We'll talk with all our daughters, their partners, and of course our mass of grandchildren too. Spreading good cheer to everyone via the air waves this go around.
My wish for you is that however you recognize this holiday in your house that it be a celebration filled with love, with laughter, and with happy memories too!
 Cheers
~Cindy
P.S. For those who can't see the video – here are pics showing you where the inspiration came from for each of these patterns: