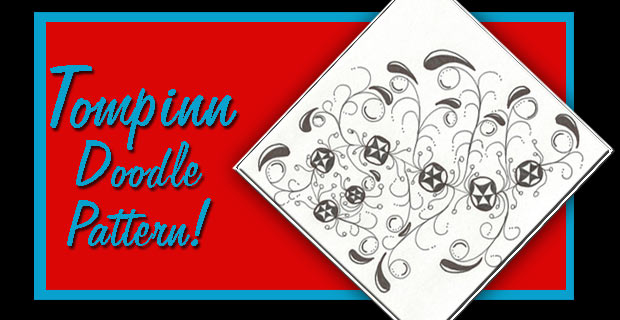 Last week I shared with you the process I generally follow when creating a new pattern from a prompt. And you probably saw how sometimes a new pattern can accidentally come about while I'm on my sketchpad playground. Remember the new line-weave pattern that emerged that reminded me of my tomato pincushion? Well in this blog post I'm going to share with you that new pattern in full.
I call it Tompinn. This is simply a spun up combination of the words "tomato" and "pin". I like to continate words and then mix up the spelling when I'm naming my patterns.  🙂  How do you name yours?
Pattern Weave How-To Video
Here's a quick video showing you how easy it is to doodle this one up and how to modify the circle shape a wee bit as well.
————————————————————-
Here's the examples I showed you in the video:
.
.
————————————————————-
Here's your Easy-to-Follow Pattern Worksheet:
——————————————
Remember to modify that little centerpiece design to meet your creative interest.  I think it's always more fun when you change it up a bit and add lots of doodley markings to give it more flair!
Have a Great Day!
Cindy