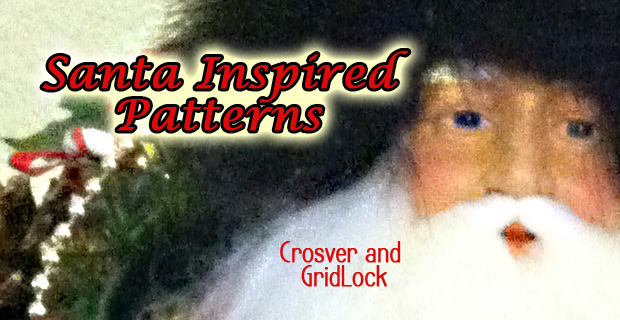 Working off the holiday theme of "The 12 Days of Christmas" song I've decided to gift out to my blog visitors my "12 Patterns for Christmas."  Today I'll share the first two and between now and the end of the year I will continue to share the rest of them.  Along with each pattern share I'll also let you in on the secrets behind the inspiration for each pattern.  This might just help you see how easy it is to come up with new patterns when you're in a slump.
Here's the video showing you how to create Crosver and GridLock – two patterns inspired by one of the many Santa dolls decorating our house around the holidays.  How his buttons were attached to his cloak and the design in the middle of them – were just the perfect little details to push my muse into create these pattern designs.
Worksheet for your Library
Do you collect Repeat Pattern designs and worksheets?  Well here's two you can add to your library.  Just right-click over the photo and save it to your computer.  Print them and tuck them into your notebook or add them to your digital files on those iPads you have now…. or maybe Santa plans to bring you this year.  😉
Be sure to come back again during the weekend and next week too.  There's more patterns due to be posted!
Happy Holidays to you!
~ Cindy
P.S.  In case you couldn't view the video – Here's the part of the Santa doll that inspired these two patterns: